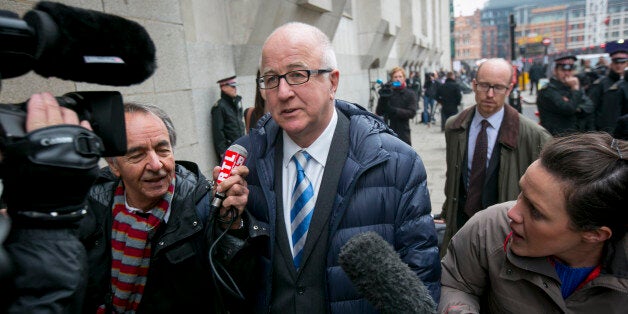 Disgraced former Labour minister Denis MacShane has been sentenced to six months at the Old Bailey after admitting making bogus expense claims amounting to nearly £13,000.
The ex-MP previously pleaded guilty to false accounting by filing 19 fake receipts for "research and translation" services.
MacShane, 65, used the money to fund a series of trips to Europe, including one to judge a literary competition in Paris.
His guilty plea followed more than four years of scrutiny into his use of Commons allowances.
Flanked by two security officers, MacShane, wearing a dark suit with a blue striped tie and glasses, said "Cheers" as the sentence was delivered, before adding, "Quelle surprise" as he was led from the dock.
Mr Justice Sweeney told MacShane his dishonesty had been "considerable and repeated many times over a long period".
"You have no one to blame but yourself," the judge said.
The judge said MacShane had shown "a flagrant breach of trust" in "our priceless democratic system".
"The deception used was calculated and designed," he said.
He told MacShane he must serve half his sentence in prison and was ordered to pay costs of £1,500 within two months.
Parliamentary authorities began looking at his claims in 2009 when the wider scandal engulfed Westminster, and referred him to Scotland Yard within months.
But the principle of parliamentary privilege meant detectives were not given access to damning correspondence with the standards commissioner in which MacShane detailed how signatures on receipts from the European Policy Institute (EPI) had been faked.
The body was controlled by MacShane and the general manager's signature was not genuine. One message, dated October 2009, said he drew funds from the EPI so he could serve on a book judging panel in Paris.
It was not until after police dropped the case last year that the cross-party Standards Committee published the evidence in a report that recommended an unprecedented 12-month suspension from the House.
MacShane, 65, who served as Europe minister under Tony Blair, resigned as MP for Rotherham last November before the punishment could be imposed.
Police then reopened their inquiry in the light of the fresh information and he was charged in May - even though the letters are still not thought to be admissible in court.
The offence of false accounting covered 19 ''knowingly misleading'' receipts that MacShane filed between January 2005 and January 2008.
Related