Malky Mackay's tenure as Cardiff City manager is set to end acrimoniously after it emerged owner Vincent Tan told the Scot to resign or be sacked in a damning letter.
Cardiff spent £32.35 million in the summer and broke their transfer record three times, bringing in Andreas Cornelius for £7.5m, defender Steven Caulker for £8m and then midfielder Gary Medel for £11m.
The email also included the extraordinary ultimatum, which means Mackay is set to become the sixth managerial casualty of the season.
Mackay led Cardiff to the 2012 League Cup final before securing the Championship title last term. He has previously stated he would not resign from his position, and it is believed it could cost Tan somewhere in the region of £3m to sack the 41-year-old, whose contract runs until 2016.
The former Watford manager is due to attend a pre-match press conference at the Bluebirds' Vale of Glamorgan training ground on Friday, although his fate could be sealed before their fixture with Liverpool tomorrow.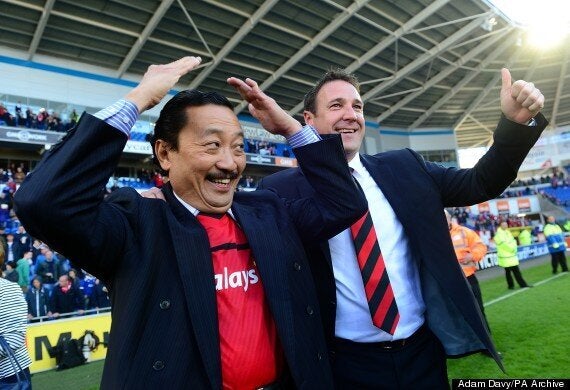 Mackay and Tan's relationship has effectively broken down
The Scot oversaw Cardiff's return to the top flight after a 51-year absence but was seriously undermined by Tan when he sacked his head of recruitment, Iain Moody, in October. Moody was replaced by 23-year-old Kazakhstani Alisher Apsalyamov, who has no experience in football and is a friend of Tan's son. Calamitously, Apsalyamov had to step aside temporarily over a visa issue and Moody has joined a resurgent Crystal Palace.
"I find it astonishing what he has had to go through, Rodgers said. "This is a guy who walked into Cardiff after they had lost in the play-off semi-finals and they waited two weeks to sack the manager Dave Jones on the day we (Swansea) were in the final - which I found strange.
"Malky walked into the club with 10 players that summer and he totally transformed the mentality of the club.
"He has had great results this season and is going to go on and be a great manager at a big club and I find it absolutely astonishing there is talk about him leaving there.
"I worked with Iain Moody at Watford, one of the most authentic people you could ever meet.
"My only conclusion is you have a business guy operating the club who knows absolutely nothing about football.