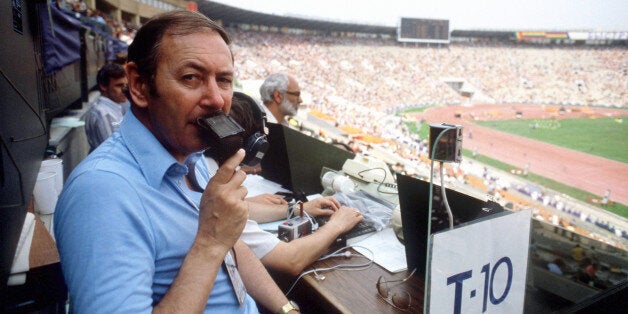 David Coleman, one of the most revered BBC sport commentators, has died at the age of 87.
The renowned athletics commentator worked for the corporation for almost 50 years, covering 11 Olympic Games, his final one in Sydney in 2000.
In a statement, his family said: "We regret to announce the death of David Coleman OBE, after a short illness he died peacefully with his family at his bedside."
Boasting an iconic voice and versatile across a variety of sports, Coleman's commentary and impact on the popular A Question of Sport quiz show heightened BBC's reputation for quality sports broadcasting. His performance during the Black September Munich Massacre at the 1972 Olympics remains a masterclass in composure.
David Coleman: A Career In Pictures
Perhaps his greatest summary at a World Cup was at the 1962 Chile finals, when he described the infamous Battle of Santiago, between the host nation and Italy, as the "most stupid, appalling, disgusting and disgraceful exhibition of football possibly in the history of the game."
And then there were his Colemanballs, lapped up expertly on seminal Sunday night satirical show Spitting Image. He even interviewed The Beatles.
Colleagues and friends have paid tribute to the commentator.
Tony Hall, BBC director-general, said: "David Coleman was one of this country's greatest and most respected broadcasters.
"Generations grew up listening to his distinctive and knowledgeable commentary. Whether presenting, commentating or offering analysis, he set the standard for all today's sports broadcasters. Our thoughts are with his family and many friends."
"DON'T TRY AND BE BLOODY CLEVER"
"DO YOU KNOW ANYTHING AT ALL?"