Sir David Jason has triumphed in his return to primetime comedy, with 'Still Open All Hours' topping the Boxing Day ratings for the evening's viewing.
The revival of the hit 80s' sitcom, with Sir David Jason reprising his role of Granville, attracted an estimated 9.43 million viewers, pushing 'Eastenders' Phil/Mick plot-turner into second place for the night with 7.22m.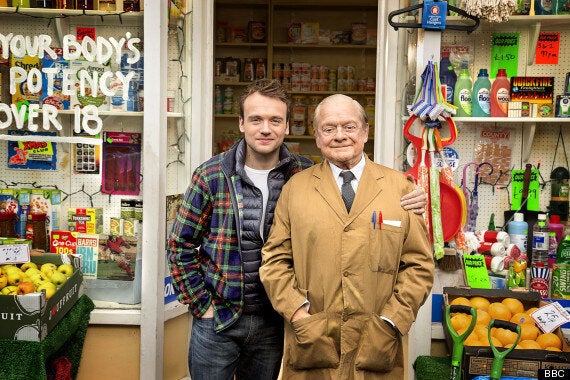 Sir David is Granville once more, with James Baxter playing his son Leroy
ITV's biggest draw was 'Emmerdale', with 4.7m tuning in to see Declan's discovery of Megan trapped inside Home Farm.
'Still Open All Hours' was a return to form for Jason, who suffered a misfire last Christmas, with his 'The Royal Bodyguard' flopping on Boxing Day.
Reviews for the show, which saw Granville take centre stage in place of the much-missed Ronnie Barker as Arkwright, were mixed.
Most applauded the enthusiastic effort by cast, but several lamented the demise of a classic. The Telegraph's Will Dean described it as, "with Ronnie Barker gone, TV as Garfunkel without Simon, Wise without Morecambe, Hale and Pace without one of Pace or Hale."
And The Telegraph's Ben Lawrence called it "a sad relic from a bygone era", and laid the blame squarely at the feet of Jason himself, who "over-articulated his words for the suspiciously excitable studio audience and this killed any comic timing".
But, with 9.43m tuning in, Arkwright's old cash register was ringing to a different tune.
Did you see 'Still Open All Hours' - A triumphant revival or sad re-run? Share your thoughts below...
Popular in the Community