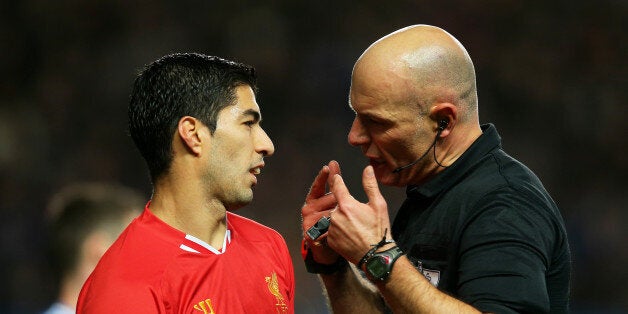 Suárez appeared to be tripped over by Samuel Eto'o in the final 10 minutes of the contest as Liverpool chased an equaliser, yet referee Howard Webb played on.
When it was suggested Eto'o had made contact with Suárez, Mourinho replied: "It's not a tackle. He [Suárez]'s doing an acrobatic swimming pool jump."
Chelsea 2-1 Liverpool: José Mourinho Wins Another Battle
"Especially in this country - this country is a special country - I feel I have some responsibility to defend some of its values in football. We don't like people with simulations and this situation in the box with Azpilicueta and Eto'o, the referee should stop with this or give him a yellow card."
Brendan Rodgers refused to get into a slanging match over the incident, but defended his striker.
"Luis will always provoke a challenge from defenders," Rodgers explained. "If you see the incident again, Eto'o is streetwise, he's cute, and blocks him. It's obstruction. But of course, José will defend his player and I will defend mine."
Days after he criticised referee Lee Mason's display following Liverpool's Boxing Day defeat at Manchester City, Rodgers declined to go down the same path with Webb.
"He's a top referee, Howard. I'll stay calm today." Rodgers did admit he was annoyed Sakho and Philippe Coutinho exchanged shirts with Chelsea players at half-time, though.
"Well one, I didn't know that, and two, thanks for telling me," he responded. "Because I don't like that. I will raise it wit him." When told Coutinho had as well, Rodgers made light of the diplomacy.
"Oh Christ, I best be off then!"
Rodgers admitted the hectic schedule over the festive period had affected the freshness of his squad. Joe Allen and Mamadou Sakho both came off injured and the Liverpool manager gave 19-year-old Australian Brad Smith his debut, yet the youngster struggled.
The slimness of the squad re-emphasised the need to make more signings in the January transfer window.
"I thought it was always going to be a tough schedule for us but I can only give credit to the players. Today, we showed moments of our quality that we've shown throughout courses of the year and this season.
"It's just unlucky we've played two of the best squads in the League back-to-back," Rodgers added. "Over this year, we've shown - and in the first 19 games this season - we can be in the shake up here. At least now we recognise what we're trying to do and hopefully we can add to it and get some depth to the group."
"It's open. In the second half of the season, we have to play all the top teams, except Man United, at home. So I think it's still very much open. On Christmas Day we were eating our turkey and top of the league, a few days later, we are fifth."