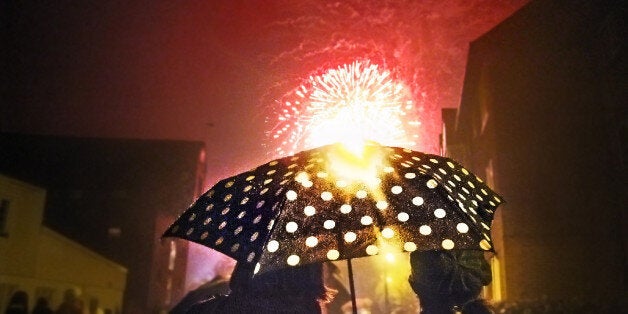 Revellers out celebrating the new year may well avoid a drenching tonight, but further rain and gales are expected to herald the start of 2014.
Thousands of people across the UK are still recovering after storms last week caused widespread misery, with power cuts and flooding ruining Christmas for scores of families.
And forecasters say there is more bad weather to come, with the Met Office issuing a severe weather warning for rain on New Year's Day, affecting southern England and western Scotland.
Seven people were airlifted to safety yesterday after heavy rain caused flooding in Scotland.
The group, which included four children, were rescued from a farmhouse near Closeburn in Thornhill, Dumfries and Galloway, by a Royal Navy helicopter after rain forced families to be evacuated from dozens of homes and caused major road disruption.
Around 40 houses in Kirkconnel, Dumfries and Galloway, were evacuated, as were 25 in Dumfries after the River Nith burst its banks, flooding the Whitesands area.
The heavy rain also caused problems on the roads, with the A76 at Kirkconnel closed and flooding on the A74 and A75, and a landslide on the A7 just south of Langholm closed the road for a short while
The latest bad weather is set to push in from the Atlantic, crossing the UK from west to east. Rain today is not expected to be as heavy as in recent days, but with the ground already saturated some minor flooding is likely, the Met Office said.
Gusts of up to 50mph could also bring unpleasant travel conditions, but the worst of the bad weather should be out of the way before evening.
New Year's Day is likely to see more persistent and heavy rain, particularly in southern England and South Wales. As much as 40mm (1.6in) could fall on higher ground or coastal areas, the Met Office said, along with gales of 50-60mph.
Land sodden from the Christmas storms is expected to struggle to cope with further rainfall, and the Environment Agency has issued a number of warnings of potential flooding.
Councils are preparing for the worst, with emergency accommodation lined up in case people are forced to leave their homes, and the Local Government Association is urging people to look on council websites to keep updated with information.
The Environment Agency said there was a continuing risk of flooding, particularly in the south west of England, as rivers respond to heavy rainfall.
A spokesman said heavy rain is expected on New Year's Day, which could cause flooding to communities in the south east and south west of England.
The agency said it had teams on the ground "around the clock" operating pumping stations, issuing flood warnings and checking that flood banks, walls and barriers are working effectively.
It said: "People travelling this week are also reminded to check the latest flood updates ahead of making journeys and should not drive through dangerous floodwater."
The spokesman added that there have been 1,300 properties flooded across England and Environment Agency defences have protected more than 80,000 properties.
Related