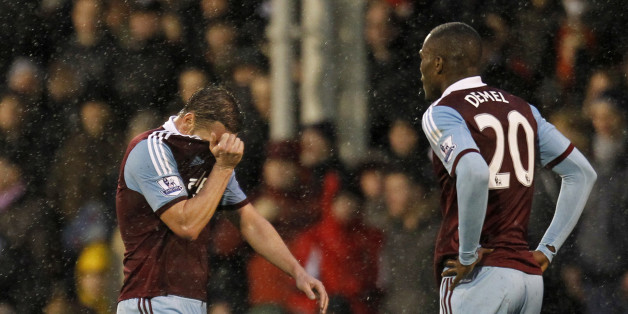 IAN KINGTON via Getty Images
It was wet, it was windy, and yet there was no win for Sam Allardyce's long-ball tactics. "Press in the bar, is it?" he asked upon his arrival at the post-match briefing. Someone jokingly asked if he needed a drink. "A large one," Allardyce responded. West Ham lost Mark Noble through injury and captain Kevin Nolan was sent off again as they plummeted to 19th in the Premier League table on a miserable afternoon at Fulham. It was West Ham's 11th defeat of the season and Allardyce is running out of time and allies to trust. Happy new year.
Referee Mark Clattenburg might have been too hasty reaching for the red card in his breast pocket and Fernando Amorebieta seemed to milk the kick that was administered, but Nolan gave him an understandable, if harsh, excuse to brandish the red card. It is the second time the Hammers skipper has received his marching orders in under a month, and further question marks will now be raised regarding his place in Allardyce's starting line-up, and his manager's persistence with him.
Allardyce is undeniably part of the problem. He appears reluctant to discard a player he gave his professional debut to as a 17-year-old at Bolton and who he brought to the Boleyn Ground in 2011. Nolan, previously a reliable goalscorer, ended a drought which lasted nearly five months at the weekend and it will be an achievement if he registers half of the 10 League goals he notched last season.
His crude stamp on Jordan Henderson's calf in December occurred when the game was already lost at Liverpool, whereas at Craven Cottage he plunged his flagging side into trouble in the 44th minute with the scores level. Even against a struggling team like Fulham, a negative result for Allardyce felt inevitable at the interval.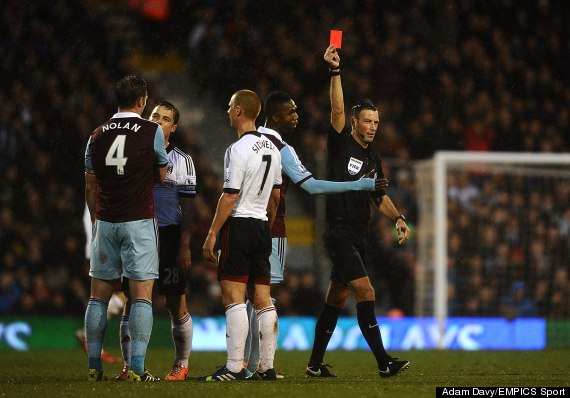 Nolan's act of stupidity cost his side at Craven Cottage
Dark and dank, 19th versus 18th, aesthetes against artisans, the inhospitable winter weather improved this clichéd relegation six-pointer in west London. There were no New Year's resolutions on the terraces, as Fulham's supporters were still impatient and West Ham's clan remained disgruntled, irrespective of their differing fortunes, come the final whistle. They might be kindred spirits in the Championship come August.
The Gods provided ideal conditions for Allardyce, and West Ham thanked them with a route one opener. Jussi Jaaskelainen's punt up the pitch was not cut out by a single Fulham player, which allowed Mohamed Diamé to turn and finish neatly past David Stockdale.
It was the 19th goal Fulham have conceded in their seven matches under René Meulensteen, who was followed by Alan Curbishley and Ray Wilkins, back at Fulham after he was sacked 16 years ago by Mohamed Al-Fayed. Meulensteen revealed the former Chelsea first-team coach was involved with tactical decisions; "You need the right people around you."
What will have alarmed the Dutchman, who was renowned for his technical coaching at Manchester United, was the inability of his back four to distribute the ball. David Stockdale's kicking suffered in the swirling wind and the impatience in the Cottage grew.
"Booing won't help at this stage," opined one Whites supporter. Their gripes would have been heard louder had Kevin Nolan made it two in two games with a far post header, only Stockdale spread himself impenetrably to deny the midfielder.
"People talk about Kevin Nolan's sending off being the defining moment but that could've been the defining moment," Meulensteen said. "We might have been drained if that went in. He was immense stepping in against Norwich, too."
Allardyce opted for three centre-backs, with Alou Diarra making his first Premier League appearance in over a year. Fulham, who excel at sterile domination under Meulensteen, struggled to engineer an opening. So it was appropriate that their equaliser, given the wretched weather, came via a corner, which Steve Sidwell stooped to head in. The ease in which Sidwell rose unchallenged will have bothered Allardyce, although preparations for the set-piece were disrupted by Noble's withdrawal for Răzvan Raț.
Fulham almost capitalised on their momentum when Adel Taarabt hit Jaaskelainen's right-hand post a minute after the leveller. Then Nolan kicked out at Amorebieta on the halfway line when the ball was heading towards Stockdale. Nolan didn't appeal against Clattenburg's decision, which perhaps signalled how disappointed he was in himself.
"I don't think there's a problem with it," Allardyce said. "The disappointment of that reaction [said it]. I just don't quite understand why he's lost his cool. He's probably responsible for us losing the game more than anybody else, I don't think there's any doubt about that."
"I don't understand it because the indiscretion of what he's done has just happened straight after what he did at Liverpool. So I'm going to have to find out what's wrong with him, because there's certainly something wrong with his mentality at the minute. Because at his age and his experience, and over the many years I've known him, I've not seen this type of reaction or this type of situation he's put himself into." Asked if Nolan's role as captain was at stake, Allardyce ominously replied: "I don't know yet."
Allardyce sent on Stewart Downing for Diamé in a attempt to sharpen their blunt attack, but was met with cries of "You don't know what you're doing", and, with central midfielders Noble and Nolan back in the dressing room, the winger hardly got on the ball. Jaaskelainen brilliantly saved a Taarabt header - and the Moroccan inexplicably missed an open goal on the rebound.
"Why should we be doing things like this when we should rip their heart out?" enquired another fickle Fulham fan, as some followers booed their team when they were winning. "The intention is always to play good football but deep down, I think the fans understand the situation we were in and need to be patient," Meulensteen added. "It doesn't mean that we've turned the corner, we're looking confident to the next coming games." Their advantage was barely threatened, though, and the Cottagers nearly out-Ironed the Irons when Stockdale's throw somehow put Darren Bent through one-on-one, yet his finish was too meek and too familiar.
Seventy-five minutes in and West Ham were shown to have enjoyed just 30% of possession. There was gallows humour in the Putney End when the travelling fans began to cheer a spell of keep ball, in what was a withering assessment of Allardyce's management. There were just three efforts at the Fulham goal in the second 45 - two of them came in stoppage-time.