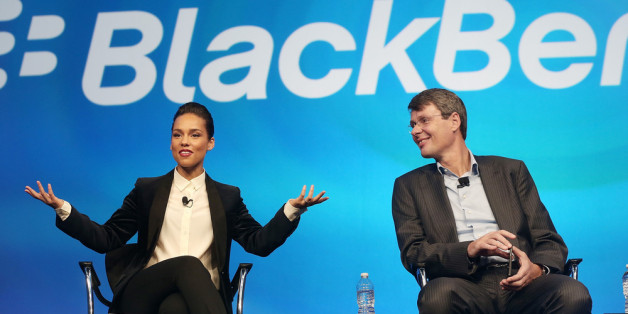 Mario Tama via Getty Images
Songwriter Alicia Keys is leaving her job with BlackBerry at the end of January after spending one year as "global creative director" for the ailing smartphone maker.
Blackberry said that the Grammy-winning singer is leaving the company as the firm retreats from the consumer market. She was unveiled as the company's global creative director last year at the launch of their Blackberry 10 devices last year, which marked the company's attempt to win back market share lost to Apple's iPhone and those using Google's Android software.
The Canadian firm confirmed in a statement: "BlackBerry and Alicia Keys have completed our year-long collaboration. We have enjoyed the opportunity to work with such an incredibly talented and passionate individual."
Keys was embarrassed in her new job for Blackberry after tech blogs noticed a tweet she had sent from her Twitter account appeared to have come from an iPhone, which she explained at the time was due to her account being hacked.
When she originally took the Blackberry job, Keys said: "I was in a long-term relationship with BlackBerry, then I noticed hotter, more attractive sexier phones at the gym. So I broke up with you for a while. I missed the way you organised my life, so I carried two phones and played the field a bit. But then you gave me a call, told me you'd been working out. Now I'm happy to announce we're exclusively dating again!"
She said she used her BlackBerry Z10 to shoot music videos during tour stops that "capture sights, sounds, and fans of every city that I visit."