Danny Dyer may have gone down a treat with 'EastEnders' fans since making his debut as Mick Carter, but one person who isn't so keen on the new landlord of The Vic is Lord Sugar.
'The Apprentice' businessman hit out at fellow east Londoner Danny on Twitter on Thursday night, claiming that his role on the BBC One soap is "a joke".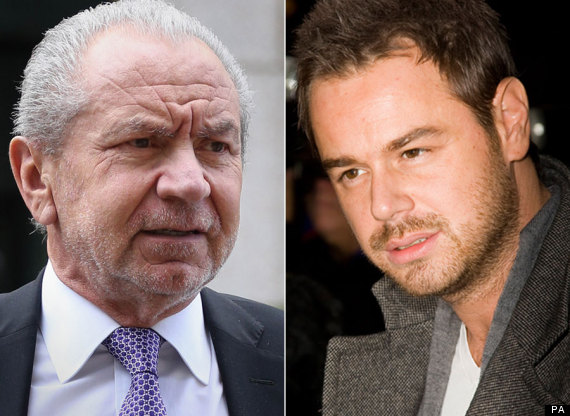 Lord Sugar and Danny Dyer
"Eastenders a joke what are the producer doing? The new mob at the Vic are a joke. However Ronnie had a crush on Carl then gave him the boot," he tweeted.
After seeing the offending tweet, Danny bit back, writing: "Now Mr Sugar be nice. trolling lark don't suit ya."
Then, replying to a fan who insisted Danny was going to be a "ledge" on the soap, Sugs replied: "OK LET'S SEE."
"Patience my love. You'll see the light. It's claret and blue ;)," Danny replied, making a reference to his football team, West Ham.
Lord Sugar then said: "IF ratings don't go up mate you will be blowing more than bubbles." To which Danny answered: "I've got a transit van on standby full of old clobber and fruit. Fingers crossed eh."
The final word went to Lord Sugar, who tweeted a clip of him in a charity sketch of 'EastEnders'.
He wrote: "BBC asked me to do Eastenders. I am too busy doing the Apprentice cop this .You don't want to mess with me."
Can someone please get Lord Sugar on the Square ASAP so they can fight it out like real east enders?
LIKE US ON FACEBOOK | FOLLOW US ON TWITTER