Michael Schumacher's fans will observe a silent vigil on his 45th birthday on Friday outside the French hospital where the seven-time Formula One champion remains in an induced coma after suffering serious head injuries in a skiing accident last weekend.
The Ferrari team, with whom Schumacher won a record five drivers' titles in a row between 2000 and 2004, have organised a 'silent march' in support of their former driver to be held outside the University Hospital of Grenoble.
The march is certain to be a sombre and poignant occasion although those present will hope the day will bring encouraging news on the German, who is in a critical but stable condition.
No update was given on Schumacher's condition by the hospital or his management on Thursday, which indicated that there had been no change, although his family did make their first statement since the accident in which they insisted the most successful driver in F1 history "will not give up" his fight for life.
Michael Schumacher Skiing Accident: Wife Corinna And Brother Ralf Arrive At Hospital (PICTURES)
"Following Michael's skiing accident, we would like to thank the people from all around the world who have expressed their sympathy and sent their best wishes for his recovery," the Schumacher family statement read.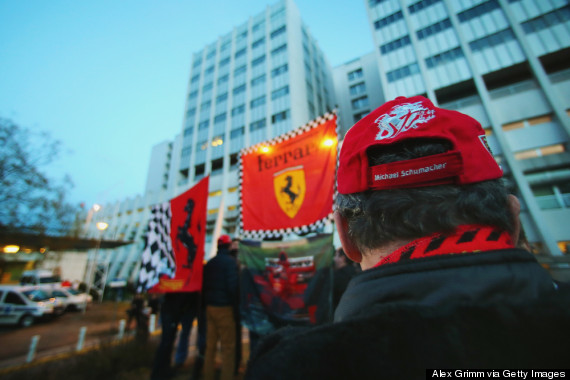 Some fans have already shown their support for Schumacher outside the Grenoble hospital
"They are giving us great support. We all know he is a fighter and will not give up. Thank you."
Schumacher's family have remained at his bedside since the weekend.