Arsenal striker Yaya Sanogo welcomed Dimitar Berbatov to the club on Facebook and then deleted the post, even though he had racked up hundreds of likes.
Several footballers, unable to decide what is appropriate and what is inappropriate to post on their social media pages, employ people to do it for them. You can generally tell when they have not tweeted or posted something themselves, because the grammar is sound and/or there is a product to plug.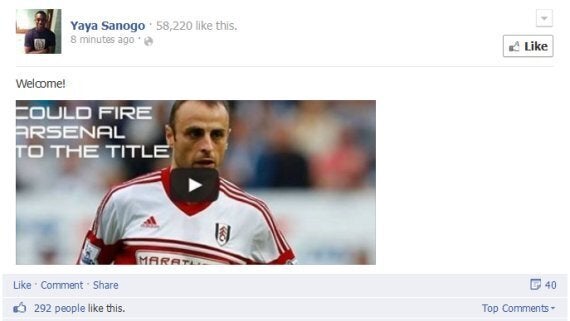 Several supporters screen grabbed Sanogo's update before he deleted it
Of course, Berbatov has not signed for Arsenal, and when Frenchman Sanogo realised this he pulled the update.
Arsène Wenger might be asked about the premature post - and the Berbatov rumour - at his press conference this morning ahead of Saturday's FA Cup third-round tie with Tottenham.