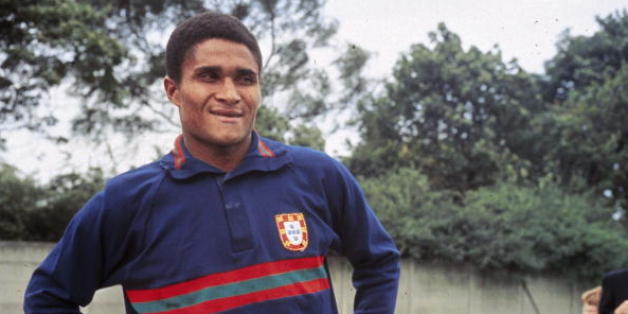 Getty
Eusébio, the great Portugal and Benfica striker, has died at the age of 71.
Nicknamed the Black Panther, Eusébio was regarded as one of the best players of all time and helped Portugal to third place at the 1966 World Cup, finishing as top scorer in the tournament with nine goals.
The Mozambique-born striker made his name at club level with Benfica, winning 11 league titles during a 15-year spell in Lisbon, as well as two Golden Boot awards as Europe's leading goalscorer.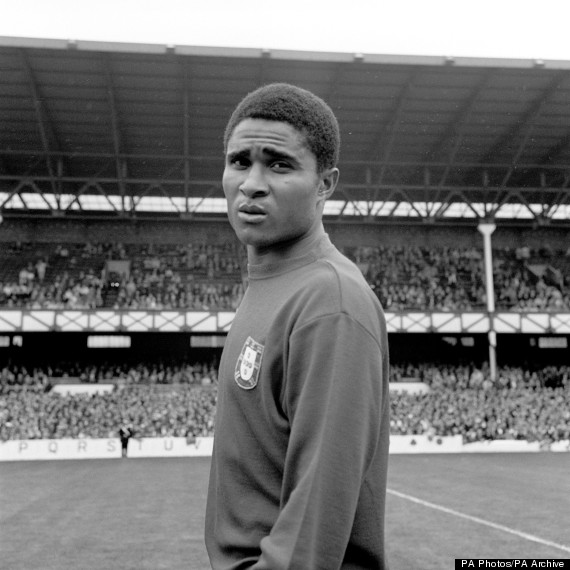 Eusébio poses for a cameraman during the 1966 World Cup
He also notched 41 goals in 64 appearances for Portugal.
Benfica were unable to confirm details of Eusébio's death but reports in Portugal say he died of a cardiac arrest in the early hours of Sunday morning.
He had been in poor health for some time and was hospitalised during Euro 2012 after suffering a heart scare in Poland.
Benfica fans will now be offered the chance to pay their final respects to the player at the Estadio da Luz later on Sunday.
"Eusébio's body will be brought to the stadium later today and all fans will be able to say goodbye," a Benfica spokesman said.
Eusébio was a torment to defenders because of his speed and technique, and scored an astonishing 317 goals in 301 appearances for Benfica, where he was a player between 1960 and 1975.
.@MrAncelotti: "Very sad news about Eusebio. We are thinking of his friends & family." #RMLive

— Real Madrid C.F. (@realmadriden) January 5, 2014
We're saddened to hear Benfica legend Eusebio has passed away. He was a fantastic player and a friend of the club. pic.twitter.com/RjLc8Rj7OD

— Manchester United (@ManUtd) January 5, 2014
One of the greatest football players ever has passed away. My friend Eusebio died last night. My thoughts are with his family.

— Franz Beckenbauer (@beckenbauer) January 5, 2014
Always eternal #Eusebio, rest in peace pic.twitter.com/n25X0q9rfF

— Cristiano Ronaldo (@Cristiano) January 5, 2014