Olivia Colman may be one of the country's hottest faces on screen now, but there was a time when she had to commute to London to work as a temp, and she hated it - and her job.
"I was a terrible secretary. I spent years working as a temp, which meant commuting," she remembers. "All those fists in each other's backs, I used to hate it. I can see how, if there is a tiny outlet, you might go for it."
'Going for it' is the subject of the BBC's new drama, 'The 7.39', written by 'One Day' author David Nicholls, which shows the dramatic repercussions of what Olivia calls "those frisson moments on a train".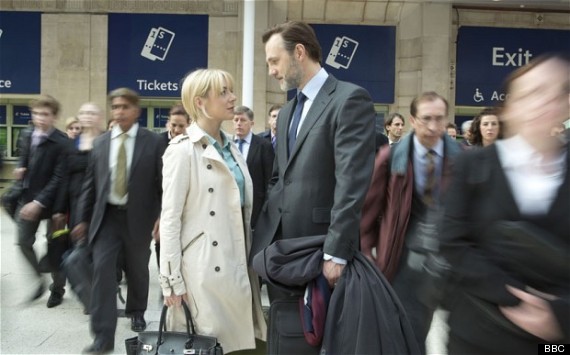 Sally and Carl find their daily encounters lead to something more in 'The 7.39'
David Morrissey plays Carl, a middle-aged salary man happily married to Maggie (Olivia Colman), but for whom the daily drudge has got too much, until his daily train encounters with Sally (Sheridan Smith) lead to something more.
"I can understand more where Sally is coming from," reflects Olivia. "Her fiancé is a lovely man but she's not meant to be with him.
"Carl feels unappreciated at all times, he's feeling unloved and unimportant, and foolishly, he wants to feel everything again.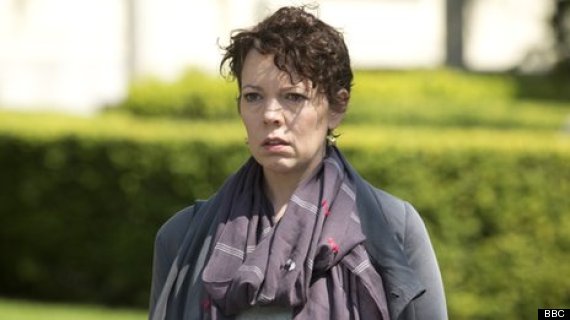 Olivia Colman plays spurned wife, Maggie, in David Nicholls' drama
"Poor Maggie, his wife whom I play, is an innocent, she's trying to make sense of her husband changing, not knowing what happens once the person you love leaves the house.
"I found it quite tense and upsetting, but you could also see why they would. Part of you is thinking, go on, do it.
"But you get to see the consequences - you do see the fallout, which is rewarding from an audience's point of view, that those frisson moments have huge repercussions."
'The 7.39' is on tonight at 9pm, BBC1. Concludes tomorrow.