David Nicholls knows the value of a repeat ritual in telling a story. After all, it helped him to produce the bestselling book of 2010 with tragi-comic novel 'One Day'.
Now he's put pen to tele-paper with this simple, all too recognisable tale of what happens when a middle-aged man, whose get-up-and-go is still on the platform, encounters the same young pretty face in the daily commuter rush. Chaos will inevitably ensue.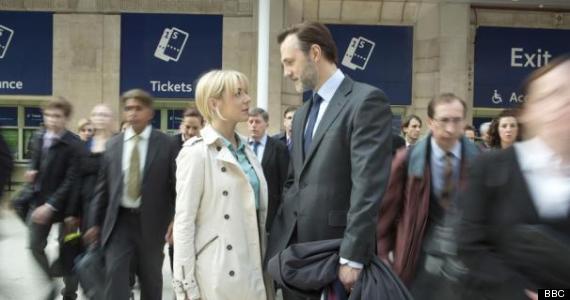 Sheridan Smith and David Morrissey feel the lure of temptation in 'The 7.39'
Nicholls kept everything simple, and bitter sweet, and it was all the more palatable for it. As mid-life, middle-salary Carl, David Morrissey proved once again how vulnerable he can play despite his physical brawn, how lonely he can be in a room full of people, including a loving wife and distracting children.
Sheridan Smith can do no wrong these days, and Sally, the feisty young thing aware that life could be more than her job and her fiance, was well within her range. She doesn't even make it look like acting, which puts her in a club with people like Martin Freeman.
With Olivia Colman as wronged but unknowing wife Maggie, there was little could go wrong with this one. Tonight's first part was all about choice, at the end of which the decision was made. Tomorrow night, bring on the repercussions.
The 7.39 concludes tomorrow 7 January at 9pm, BBC1