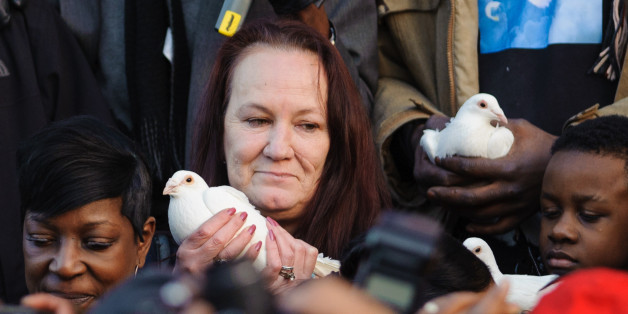 PA
Despite warnings from the Metropolitan Police that some were planning to "cause disorder", the protest vigil for Mark Duggan was a peaceful affair.
Relatives of Mark Duggan proclaimed "we are not a gangster family" as they held a vigil outside Tottenham police station.
Around 500 protesters gathered outside the three-storey building in north London, which passed off without trouble.
The vigil was staged in protest at what Mr Duggan's family have branded a "perverse" inquest finding this week when a jury decided that the 29-year-old was lawfully killed by police.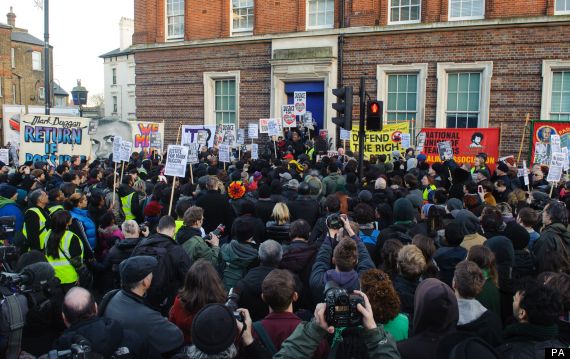 Crowds gather outside Tottenham police station
Mr Duggan's death at the hands of a Metropolitan Police marksman sparked riots across the country in 2011.
His mother, Pamela, aunt, Carole, and brother, Marlon, were joined by crowds carrying placards which read "Justice for Mark Duggan".
They held a minute's silence before chanting "No justice, no peace" and "Who are the murderers? Police are the murderers".
Carole Duggan told protesters that the media was to blame for portraying her nephew as a gangster.
She said: "The more we people come together and support each other, maybe we can make a better life for our children, for all of those children who have to live in these communities that are over-policed, where they are not free.
"They don't have the same freedom as other children in other parts of the country and that's not fair.
"What we have got to remember - Mark isn't here and we are doing this for his children.
"So let's show the country that we are not this gangster family that the media has been systematically portraying us as.
"Mark was not a gangster, the media sustained a campaign against him. "We're just an ordinary family."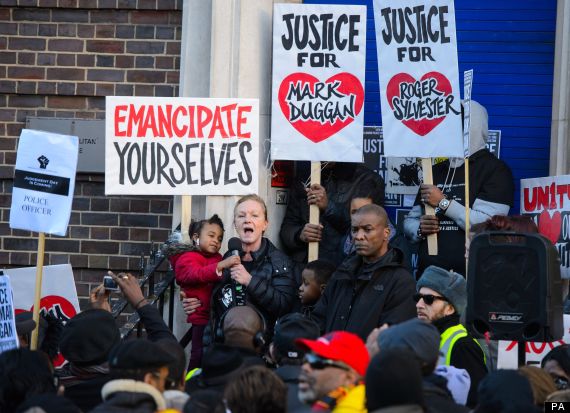 Protestors call for 'Justice for Duggan'
Mr Duggan's aunt also called for a new Independent Police Complaints Commission investigation into his death.
She told reporters: "Mark did not get the justice he deserved from the inquest, so therefore we have no alternative but to go back to basics, start at the beginning.
"The beginning was with the IPCC - what we really want the IPCC to do now is what they should have done in the beginning and that is a thorough investigation."
During the vigil, Mr Duggan's brother, Marlon - wearing a hoodie, stood behind those speaking.
Protesters booed local Labour MP David Lammy for not attending.
Earlier in the day, Mr Lammy had warned anyone intending to cause trouble to stay away.
Reggae and hip hop music was played from loudspeakers as other black families who lost love ones after police contact also spoke to the crowd.
Trade unionists from the National Union of Teachers and RMT were also present, while Tottenham Hotspur fans went past the protest to their home game against Crystal Palace at nearby White Hart Lane.
As the protest came to an end, 20 white doves symbolising peace were released.