'Death in Paradise' returned last night for a third series of this hit show. It was the usual exotic Caribbean surroundings, the twinkle of eternity pools, palm trees blowing, everything that has proved such appealing viewing for the last couple of British winters. Business as usual, right?
Wrong. Because, within only two or three minutes of his taking his customary place in a social gathering - tucked away to the side with only a cup of tea for company - it transpired that our favourite ex-pat was, er, expired.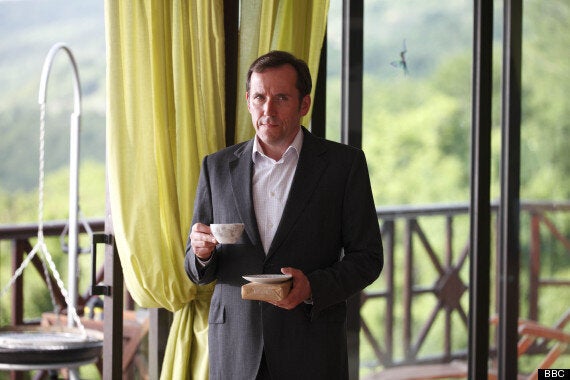 At least Richard Poole got to have a final cup of tea before his sudden departure from the series
That's right. DI Richard Poole (aka comedic actor Ben Miller) had been stabbed at his university reunion party, with the ice pick. Which meant that, probably, one of his own chums had done it. And added to his colleagues' shock and upset was the fact that there was no one with Poole's aptitude to be called on to solve the crime.
Enter Kris Marshall, 'My Family' alumnus, to try to fill his boots. Where Poole was all stiff, crisp English collars, Humphrey Goodman appeared in what seemed to have been in a previous life a summer suit. And, almost inevitably, he was bumping into tables, getting his jacket caught in the car door, generally proving how bumbling, and apparently inept, Brits abroad can be. Sigh. With Ben Miller, this series had moved away from such clichés, but it seemed we had regressed into cringeworthy sitcom territory.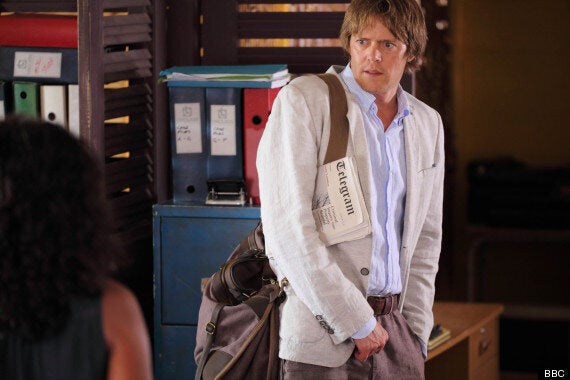 Enter Kris Marshall as DI Humprey Goodman, the new fish in the tropical waters
Plus, I'm not sure his cooky ungainliness was quite the best approach of scriptwriters quite so soon after the sudden departure of the misunderstood but beloved Poole. His timing was all off. Within only a couple of scenes, he was initiating a deep and meaningful chat with Camille – "I'm not trying to be him" – while his shoes got drowned by the tide, naturally. This chat could surely have come at the end of the episode, when he'd earned it.
If this was all initially a bit jarring, it was a relief when he simply got on with the investigation. And, by the end, however, he'd calmed down a bit, and shown his own vulnerability - I think we all knew the wife wasn't going to be following him all the way to paradise – and paved the way for new storylines and connections.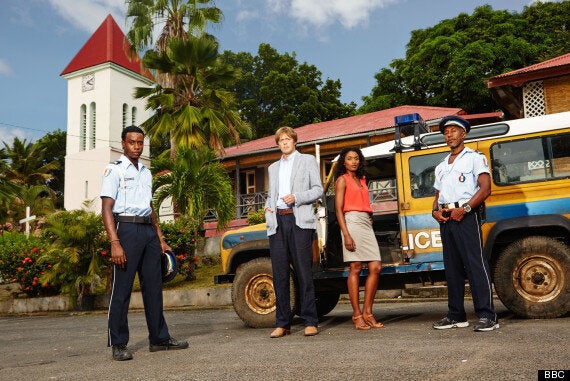 'Death in Paradise' - the same but slightly different
So, all in all, sigh of relief. It looks like the winning formula of 'Death in Paradise' will survive the loss of Richard Poole, and won't be much worse, just slightly different. But, I'd just like to pause here, and doff cap, because Poole was a really interesting, rare TV character, and I'm just glad he got to drink his final cup of English tea in the hot sun before his sudden exit.
Did you enjoy 'Death in Paradise' with the change of detective? Let us know your thoughts...