Former boxer and politician Vitali Klitschko was sprayed with powder from a fire extinguisher as anti-government protests in Ukraine's capital, Kiev, escalated into fiery street battles.
Thousands of demonstrators hurled rocks and firebombs to set police vehicles ablaze, as dozens of officers and protesters were injured.
Police responded with stun grenades, tear gas and water cannons, but were outnumbered by the protesters. Many of the riot police held their shields over their heads to protect themselves from missiles thrown by demonstrators on the other side of a cordon of buses.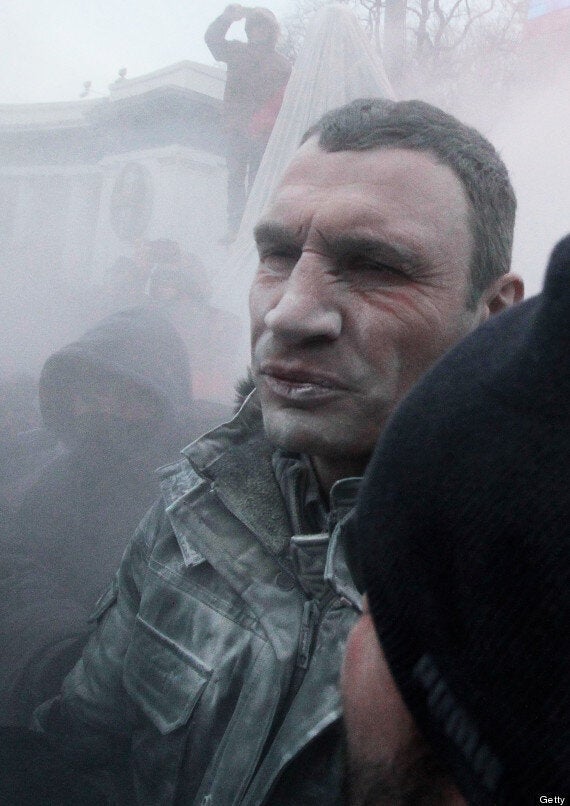 Klitschko was sprayed with powder from a fire extinguisher
The violence was a sharp escalation of Ukraine's two-month political crisis, which has brought round-the-clock protest gatherings, but had been largely peaceful.
Opposition leader Klitschko tried to persuade demonstrators to stop their unrest, but failed and was sprayed by a fire extinguisher in the process. Klitschko later travelled to President Viktor Yanukovych's residence and said the president had agreed to negotiate.
"There are only two ways for events to develop. The first one is not to negotiate," Klitschko was quoted as saying by the Interfax news agency. "A scenario of force can be unpredictable and I don't rule out the possibility of a civil war. ... And here we are using all possibilities in order to prevent bloodshed."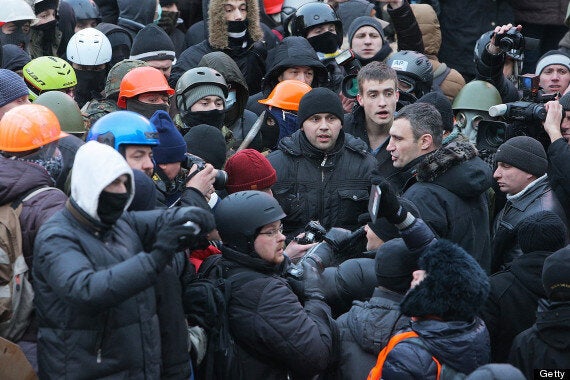 Klitschko said President Viktor Yanukovych's had agreed to negotiate
Mr Yanukovych said later on his website that he had tasked a working group, headed by national security council head Andriy Klyuev, to meet opposition representatives to work out a solution to the crisis. But it was unclear if either side was prepared for real compromise - throughout the crisis, the opposition has insisted on the government's resignation and calling early presidential elections.
Klitschko's top allies, who stood by his side at the peaceful rally earlier in the day, did not show up at the site of the clashes for the most of the day. Instead, they called for a peaceful means of protest from nearby Independence Square and condemned the clashes.
Popular in the Community