Al-Qaeda affiliated rebels are reported to have beheaded ten men and mounted their heads on spikes in a bloody day of fighting which saw them take control of the northern border town of Jarabulus.
Al Jazeera English described the fighting as comprising "scenes of medieval violence" as more than 1,000 refugees fled across the border to Turkey.
The fighting is reported to have occurred on 17 January between rebel groups Liwa al-Tawhid Bridgade and the Al-Qaeda-affiliated Islamic State of Iraq and the Levant (ISIS), factions battling amidst the insurgency against President Bashar al-Assad.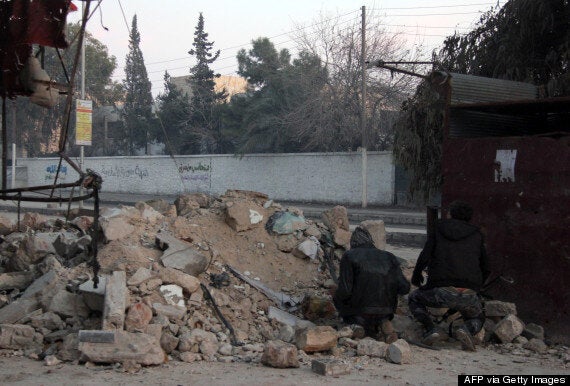 ISIL and opposition fighters pictured in the northern Syrian city of Aleppo on 7 January 14
Witness Muhammad Jader told the channel: "They lined us up against the wall and the emir told them not to waste bullets.
"Suddenly they grabbed one guy and pinned him down on his stomach. Then one man from ISIS put his knee on his back, shouted 'Allahu Akbar' and cut off his head with a knife.
"They chose people at random to kill. There was no logic."
The 22-year-old added one man was beheaded because cigarettes were found on his person.
The British-based Syrian Observatory for Human Rights says while the ISIS fighters have reclaimed the town, they were recently ousted from nearby Saraqeb.
It adds the fighters have been imposing radical lifestyle restrictions, including banning smoking and music, demanding use of the full-face veil and closing all shops before and during prayer times.
More than 100, 000 people have been killed and millions made homeless since the first peaceful demonstrations against the Syrian regime in 2011.
Former war crimes prosecutors who authored the report compared the bodies they saw to images of Nazi death camp victims.
Peace talks are currently underway in Switzerland.