Sandro Rosell described the allegation he misappropriated funds from the signing of striker Neymar as "unfair and reckless" as he announced his shock resignation as Barcelona president.
Rosell also revealed at a press conference on Thursday night he and his family had been the victims of "threats and attacks" as he brought the curtain down on his three-and-a-half-years as Barça chief.
At the same time as stepping down, Rosell confirmed vice-president Josep Maria Bartomeu would be his successor until 2016.
Rosell's departure comes after Spanish national court judge Pablo Ruz this week accepted a lawsuit alleges Rosell misappropriated funds from the transfer of Brazil international Neymar from Santos last June.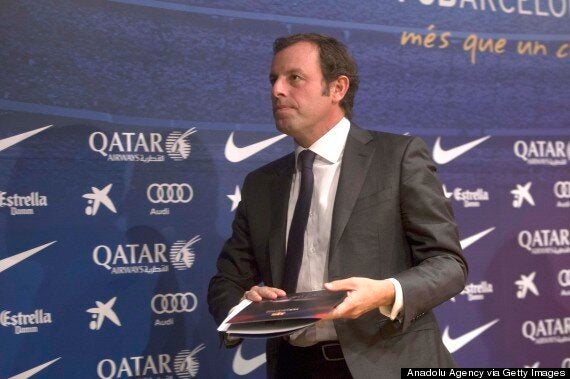 Rosell succeeded Joan Laporta at Barça but has left under a cloud of controversy
Barcelona club member Jordi Cases has alleged the amount paid was more than the €57 million (£48.6m) fee reported at the time.
Rosell insisted on Monday the transfer fee for Neymar was €57m and in announcing his decision to step down on Thursday, he said: "In recent days an unfair and reckless accusation of misappropriation has resulted in a lawsuit against me in the Audiencia Nacional.
"From the beginning I have said that the signing of Neymar Junior has been correct and his signing has caused despair and envy in some of our adversaries.
"The right of the club members to be informed needs to be compatible with the defence of the club and confidentiality of certain matters and facts. This confidentiality is essential in the world of football because otherwise the club could be damaged.
"The board of directors is a team. And this team leads a project that has brought the club great success. I don't want unfair attacks to negatively affect their management or the image of the club. This is why I think my time here has come to an end.
"Now, in accordance with the club's statutes, I have presented my irrevocable resignation of the presidency of FC Barcelona to the board of directors."