Paralympic gold medallist Richard Whitehead jumped into first place in Tom Daley's ITV programme Splash! with an inspiring dive on Saturday.
The athlete wowed the crowds with a daring handstand dive off the 10-metre board - the first time the tricky stunt has been attempted in the series.
But his fellow contestants, comedian Jenny Eclair and TV presenter Polyanna Woodward, crashed out of the show after suffering some stinging injuries during rehearsals. Richard, a double amputee, said he wanted to inspire other people to conquer their challenges as he removed his prosthetic legs and limbered up for his courageous dive.
The 37-year-old told viewers: "If you believe you can achieve. I'm going to do a first for Splash! - a handstand dive."
His performance won loud cheers from the audience, and scored him 27 out of 30 from the judges - the highest score of the series so far.
The judging panel hailed Whitehead's performance as "inspirational" and said it showed that diving should be included in the Paralympic Games.
Coach Andy Banks said: "There is no Paralympic diving because apparently it is just too difficult. I think it's fair to say that for Richard Whitehead it is not too difficult. That was amazing." Comic Jo Brand dubbed the sports star "King Richard" and said his dive was an "incredible performance".
Richard will be joined in the semi-finals next Saturday by former England rugby player Austin Healey, who tackled his diving demons to beat The Saturdays singer Una Foden in the "splash-off" and land a spot in the next round.
The former Leicester Tigers star, 40, told how he was haunted by "20 years of nightmares" after he was knocked unconscious when he hit a diving board as a child and had to be "fished out" of the pool by lifeguards.
But he showed no fear as he embarked on a bold, backwards somersault dive which was praised by judges for its complexity.
Judge and Olympic silver medallist Leon Taylor said: "You did the toughest dive, I was very impressed. But you did have helicopter legs all the way through, so that did need to be improved."
Pop star and former all-Ireland swimming champion Una Foden, 32, braved a broken toe to launch herself into a front dive tuck off the 5m board.
But while the judges praised her "attacking dive", she lost out on a spot in the semi-final because her jump was not as complicated as her rivals.
The singer was not the only one who was left battered and bruised after a gruelling training regime.
The Gadget Show presenter Pollyanna Woodward had to be taken to A&E just hours before the show after she badly cut her eye following a nasty landing during her rehearsal dive. The determined star, 31, returned to the pool and leapt off the 7m diving board for a somersault dive.
Her bravery won the admiration of the judges, while trainer and Olympic diver Tom Daley hailed her "gutsy" performance.
He said: "Considering earlier she was in A&E for her eye, she has gone out there and done it again. I take my hat off to her."
But despite her bravery she failed to sail through to the next show.
Comedian Jenny Eclair, 53, was left in tears after she badly bruised her thighs during rehearsals. She put on a brave face and performed a forward pike from the 5m board - the simplest dive of the night.
Judge and fellow stand-up comic Brand said she looked like a "cheeky, bouncing prawn", while Leon said: "You put your brave face on and put your game face on and that was a beautiful dive".
But it wasn't enough to get her through, and the comedian bowed out of the show.
Whitehead and Healey will join Towie star Dan Osborne, model Danielle Lloyd, TV presenter Michaela Strachan, Diversity dancer Perri Kiely, Boyzone singer Keith Duffy and children's TV presenter Anna Williamson in the semi-finals.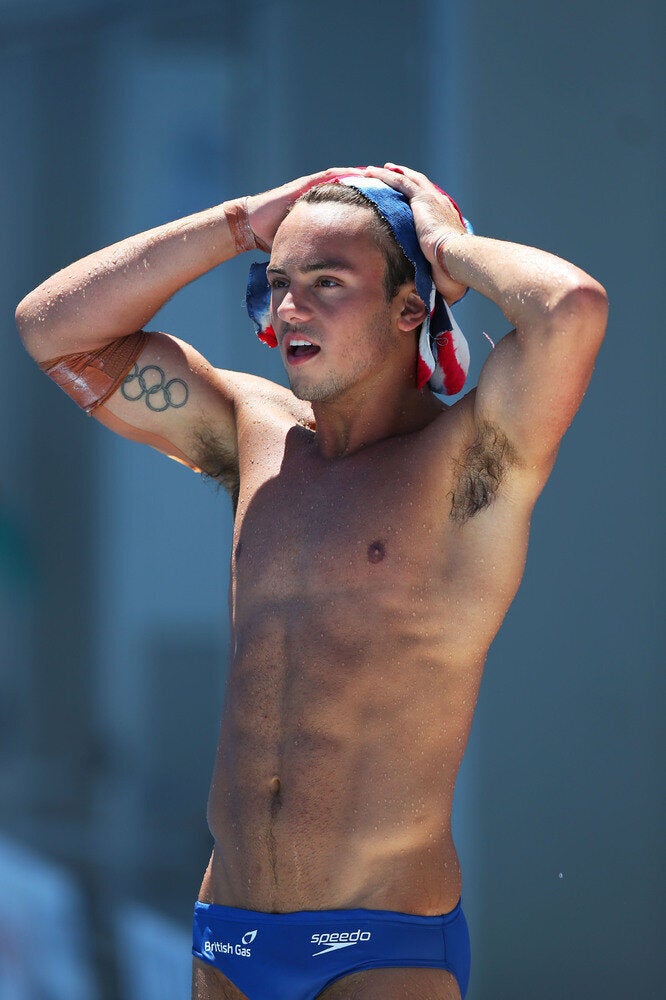 Tom Daley's 100 Sexiest Snaps