Sony's Xperia Z1 Compact is a smaller (iPhone-sized) version of its well-received Z1 smartphone.
20.7-megapixel camera
Android 4.3 Jelly Bean
18-hour talk time battery
4.3-inch 720p display
2.2 GHz Qualcomm quad core
"The Xperia Z1 Compact is everything you expect in a premium smartphone, beautifully crafted to fit perfectly in the palm of your hand."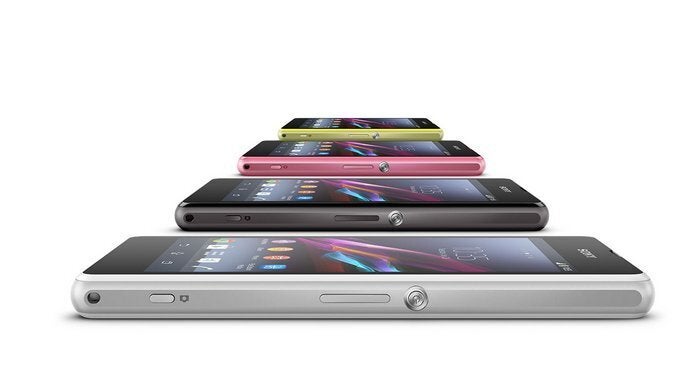 Sony Xperia Z1 Compact
Sony's current mission is to bring all of its best technologies - screen quality, cameras, computing and gaming - into singular, simple devices, and then sell boatloads of them.
Last year it came closer than ever to delivering on that promise, with the release of both the Xperia Z and then the Z1, both offering high levels of performance on all levels, in a waterproof casing, with great 5-inch screens.
But when it comes to actually selling the devices, it was an unavoidable fact that for many people 5 inches is just too big. (And don't get us started on the objectively hilariously massive Z Ultra.)
Enter the Xperia Z1 Compact, Sony's first phone of 2014 which aims to take most of the good stuff inside the Z1, but build it into a package as small as an iPhone.
Outwardly the phone is a very pretty, very solid and impressive phone. It's weighty, but not heavy, and feels extremely solid and comfortable in the hand. The screen bezels are on the large side, and the use of metal and glass is not to everyone's taste (it tends to pick up fingerprints easily). But the bold choice of colours (pink and yellow, alongside white and black) are pleasing and the phone as a whole has a professional, flagship-quality feel. It also retains the improved port covers from the Z1, compared to the flimsy covers on the original Xperia Z.
Inside, the phone is pretty much up to par with its bigger counterpart. Impressively, that includes everything from the waterproof case to the remarkably good 20.1-megapixels camera (at least in bright light, it's not so good in poor conditions), and a powerful Snapdragon 800 processor which keeps things very speedy. Like the Z1 it also has an NFC sensor, a MicroSD port and 16GB of storage.
The main features to be dropped from the bigger phone are the screen size, which falls from a 1080p display to 720p, and the battery (from 3000 mAh to 2300 mAh). But neither are huge losses, because the screen quality itself is still very good, especially for a 4.3-inch phone, and requires less energy to run, hence boosting the battery life to about a day of full use.
The Z1 Compact also features the same Sony-fied version of Android 4.3 as the other devices, with a full suite of Sony apps and a few neat additions (for instance a customisable app tray) and a few clunkier ones.
Overall, the Z1 Compact is a surprisingly great phone, which unlike many of its 'Mini' Android brethren does not sacrifice quality components just to drop an inch or so of screen. For people with small hands, small bags or great eyesight, it's a great choice. It's also slightly more affordable that the biggest flagships. It's not quite the 'One' Sony device we've been promised for more than a year - it's a little heavy, and clunky, and the software needs a refresh - but it's great evidence that the company is closer than ever to that ambitious goal.