It's sad that the man who brought us 'Notting Hill', 'Four Weddings and a Funeral' and 'Love Actually' wants to retire from filmmaking but his farewell film almost makes it worth it…
'About Time', a time- travelling rom-com – in which Bill Nighy passes down the ability to his son Domnhall Gleeson to go back and fix moments in life to make them better (by standing in a cupboard) - is not half as daft as it sounds.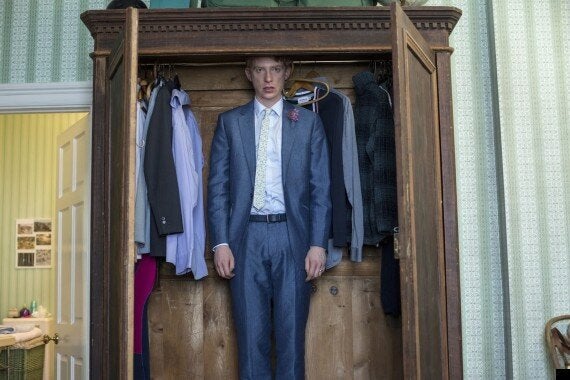 Domnhall Gleeson in the cupboard
It's a warm, touching and memorable film, in which Domnhall as Tim and Rachel McAdams as Mary, portray a love story that many can only dream of.
In the film, they meet in the pitch-black of a reconstructed version of the Dans Le Noir restaurant in Clerkenwell, London. In this unusual culinary setting where people dine in complete darkness, Tim has no idea what American Rachel looks like and vice versa, but they click in the strange environment and their romance begins.
I went along to the real Dans Le Noir to test out the experience myself and to find out if lack of sight really is conducive to romance…
As our blind waitress, the lovely Lisa, led us slowly to our table, all types of negative thoughts began running through my head about what lay ahead of us for the evening.
Dining in the dark brings additional worries to the normal date fears. Will someone make me jump and scream? Will I trip over? Will I knock over a glass? And most of all – will I spill food all over myself? But of course no one would be able to see if I did.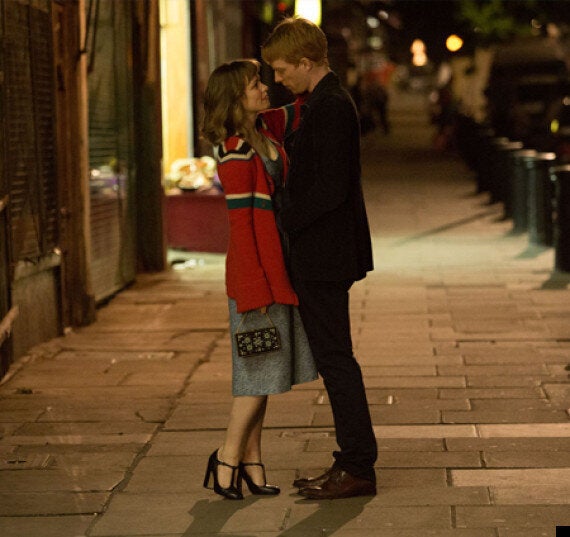 Rachel McAdams and Domnhall Gleeson in About Time
As I sat down, it dawned on me that I had no idea where I was. As the restaurant's passionate general manager Dominique Raclin later explained, at least one diner a week freaks out after two minutes and has to leave. Being in a room where you have no idea where the door, ceilings or walls are, is strangely claustrophobic.
"When they come here and get inside the dark the realise they are claustrophobic… they come out crying, they need space, they need water, it's a common reaction," he says.
So that's one thing worth bearing in mind if you're heading to Dans Le Noir on a first date.
My eyes felt like they were desperately seeking a flicker of light but, as I began to relax, I stopped the wide-eyed gazing and began chatting to the rest of the equally excited diners on our table. From what I could work out there were two couples, made up of two English men, an Australian and an American woman.
I tried to remember the last time I laughed and joked with complete strangers in a restaurant and couldn't. That was the best thing about the darkness, feeling completely uninhibited. Everyone was so much more open.
Dans Le Noir gives customers the choice of three menus: white (surprise), red (meat), blue (fish) and green (vegetarian). You choose your colour and that's all you know about what you are putting in your mouth.
My friend and I chose the red menu and guessed the starter was some kind of smoked ham and salad, the main was a beef roast dinner and the pudding was a lemon curd.
There were plenty of empty fork in the mouth moments and we resorted to using our fingers to feel where our food was on the plate, not wanting to miss a morsel.
All courses were delicious but we were stunned to find out what we'd actually eaten after we'd left the dark room was a bit more sophisticated than we'd guessed…
The starter was actually smoked wood pigeon breast served with roasted baby tomato, Parmesan shavings and strawberry vinaigrette.
The main included supreme of guinea fowl with mango salsa and creamy broccoli, and pan-fried duck breast with wok fried vegetables and chocolate sauce. Plus fillet of beef wrapped in parma ham, shallot puree and maître d'hotel sauce.
And the desert was lemon posset with honeycomb dust and gingerbread shortbread.
This 'big reveal' added another great twist to the normal restaurant experience. But how did we get the menu so wrong? Dominique explained, "80 per cent of the information you get to your brain passes through your eyes."
Although I'd had a brilliant, unique and thrilling dinner in the dark, I wasn't convinced it added any romance to a normal restaurant experience. Isn't looking into someone's eyes the best bit?
Dominique, who claims Prince William and Kate Middleton got engaged at Dans Le Noir (wasn't it really Africa?), has welcomed plenty of high-profile people who are seeking solace in a restaurant without staring fans or camera phones into the darkness, including Emma Watson.
But the thing he seems most proud of is the love stories that have begun or been cemented in his restaurant…
"People can not lie in the dark," says Dominique.
"It is the perfect place to declare your love to someone, like Kate and Will did.
"You have the perfume, the good words and you can touch somebody with your hand… you feel in the dark if somebody says 'I love you' and it's not true."
Dominique is so certain that Dans Le Noir is a place for romance that the venue is used for blind dates in the Cilla Black sense.
"I'm working with dating websites to help people meet together without any pictures. Nobody believes those profile pictures anyway," he says.
"People want to reach somebody and have a lovely life in the future and they dream about that, both of them, and here it's possible to do that.
"Because when you meet somebody and you don't see who the person is you just FEEL that 'this is the person'."
Well, if that's not romantic, I don't know what is.
Just in time for Valentine's Day, ABOUT TIME is released on Blu-ray™ and DVD from 3rd February
Popular in the Community