The former Bosnian Serb army commander Ratko Mladic has refused to testify after his former political master Radovan Karadzic called him as a defence witness at his war crimes trial at The Hague.
Mladic, 71, slammed the International Criminal Tribunal for the former Yugoslavia (ICTY) Tuesday as a "satanic court" and refused to speak until officials fetched his dentures. Former Bosnian Serb army chief Ratko Mladic
TOP STORIES TODAY
The pair exchanged genial greetings in the courtroom, but their reunion lasted only about an hour as Mladic repeatedly told judges he would not answer former Bosnian Serb President Karadzic's questions, citing ill health and an unwillingness to risk incriminating himself.
Lawyers representing Mladic say he suffers from a memory disorder that makes it hard for him to differentiate between truth and fiction.
The brief hearing of the two alleged chief architects of Serb atrocities during Bosnia's 1992-95 war marked the first time the two men had been seen together publicly since the aftermath of the war during which 8,000 Muslim men and boys were slaughtered in Srebrenica.
Both deny charges of war crimes and crimes against humanity for their part in the war, which cost up to 100,000 lives.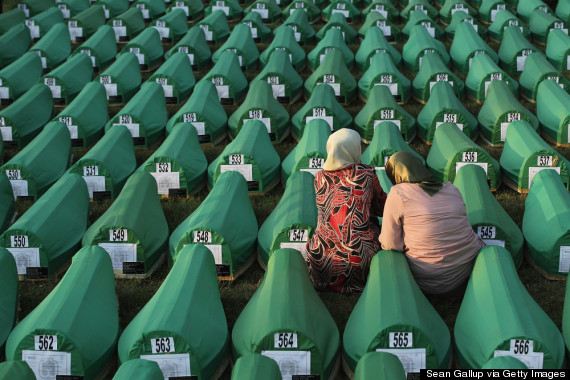 Coffins of victims of the 1995 Srebrenica massacre
Mladic initially refused to take the oath, saying: "Your subpoenas, your platitudes, your false indictments, I do not care one bit about any of it."
He added: "This is a satanic court, which is putting on trial us Serbs because we are defending our people from you."
But, after being told he risked contempt charges, he asked security to fetch his false teeth, which he had left in his cell in the tribunal's detention unit.
With his teeth in place, Mladic again refused to testify and despite issuing a subpoena for Mladic to appear in court, judges would not compel him to give evidence.
As he left court, Mladic said: "Thanks a lot, Radovan. I'm sorry, these idiots wouldn't let me speak. They defend Nato bombs."
Both Karadzic and Mladic attempted to evade capture and extradition to face trial in The Hague for many years before they were finally caught.
Karadzic was sensationally captured in Serbia in 2008, disguised as a bushy-bearded new-age healer, and Mladic was detained nearly three years later.
Both men face maximum life sentences if convicted.