Coca-Cola have been in trouble again after the word "gay" appeared to be banned from the Sochi sponsor's customisable "share a Coke" function.
The soft drink giant has issued an apology after its new social media campaign backfired horribly.
The Olympic sponsor's marketing campaign in South Africa wanted fans to share a virtual can of Coke personalised with a friend's name or message.
But when users tried to enter "gay", the website responded with a message saying: "Oops. Let's pretend you didn't just type that."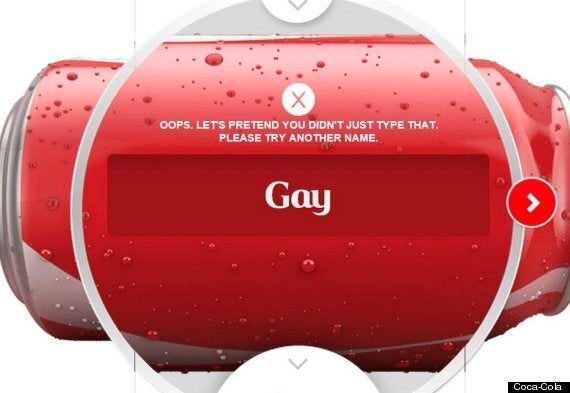 "Hetero" and "Straight" were fine though.
Embarrassingly, Coke was recently implicated in the detention of a gay dissident in Russia, after allowing Olympic officials wearing the company's sponsorship logo to arrest the gay rights advocate.
Coca-Cola told The Huffington Post UK it is aware the Share A Coke promotion running in South Africa "has generated an unintended outcome."
"The digital version of the Share a Coke promotion did not properly limit the customisation to individuals' names," a spokesman said.
"As one of the world's most inclusive brands, we value and celebrate diversity. We have long been a strong supporter of the LGBT community and have advocated for inclusion, equality and diversity through both our policies and practices. Again we apologise for any offence this has caused."
Gay rights campaigners All Out have launched a petition, with 138,000 signatories, to call on the drinks manufacturer to make a statement on Russia's gay propaganda law, even if a boycott is not a practical aim.