Members: Aged between 21 and 24, they're Jake McIntosh (guitar), Chris Malkin (guitar), Charles Baker (vocals), Rob Harvey (bass), Calum Forrester O'Neill (drums). Two have already graduated but three are at Leeds Metropolitan University (Music Production), Manchester Metropolitan University (Design) and the University of Manchester (Philosophy).
We hooked up for a chat with Calum to see what makes the band tick.
How long have you been playing?
We have been separately singing and playing in different bands for about six to seven years, but we came together as a group and have been performing and writing for about three years.
What genre of music do you play?
I suppose you'd have to categorise it as alternative, although we are aware that's very often just a reflex answer, especially with the way music changes. But, yeah, alternative.
Why did you start playing?
Well we've all grown up on music, it was the main thing we had in common, and i think it just got to a stage where we all wanted to have a go at it, trying to keep getting better and create something we were happy with and see where it takes us.
What's your most memorable musical moment?
There have been so many and a lot of individual highlights I am sure, but I think we'd all agree one of the best was a few years ago at Latitude Festival, coming together to watch Grizzly Bear and The National, that was a great highlight for us all, two bands that have massively influenced us.
It'd be quite easy on this question to go with success, there's quite a large view of making it at the moment. I think for us though making music we are proud of and it being out there is what we want.
Who's your idol and who would you most compare yourself to? (Dead or alive...)
I suppose this could be five different answers, and for five different reasons. We all respect and seek influence from different people, I don't think any of us idolize anyone, we all just respect and admire what people have done.
Everyone from David Bowie for his incredible evolution through music, to Bob Dylan or even Alex Turner for songwriting ability. But I think the main shared influences are more current: The National, Arcade Fire and Wild Beasts maybe.
If you could play with anyone, who would it be?
Similarily to the last question, I think there are a lot for each of us, both producers and artists, it would be interesting for instance to see what James Murphy would have us do, or what it would be like to play with Erykah Badu but there would be a lot of individual answers to it'd be difficult to pinpoint just one.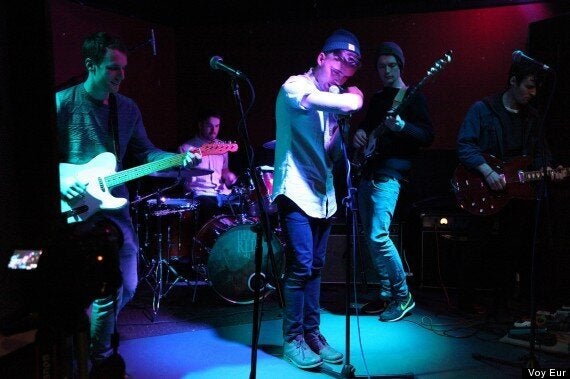 If you could play at any festival, which would it be?
We have all been to a lot of festivals, so we like a lot of different ones, for very different reasons. Latitude for its atmosphere, Glastonbury just because of its incredible history, but I think we'd want to experience the international festivals that are becoming popular particularly, Coachella, SXSW and Benicassim.
I don't think there is a specific demographic really. I suppose just someone who enjoys what we do.
What's your all time favourite song?
I think there may be several answers from different people on this, personally LCD Soundsystem - All My Friends, Elbow - Scattered Black and Whites have always been the top two, I think the others may have different lists, and hopefully they don't mind me answering. They are good songs!