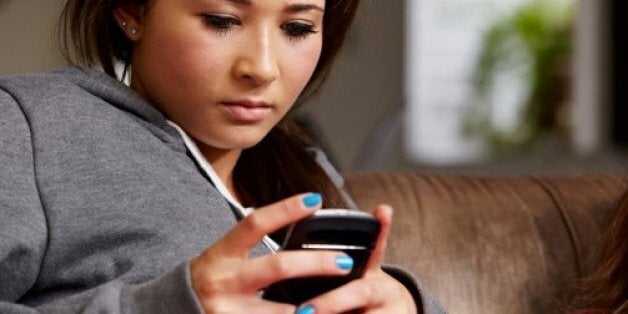 Teachers should search through their students' phones for sexual images, a Home Office Minister has said.
Speaking in the house of Commons on Tuesday, Liberal Democrat Crime Minister Norman Baker encouraged teachers to utilise the greater search powers given to them under the coalition's 2011 Education Act.
"We have given teachers stronger powers to tackle cyberbullying by searching for and, if necessary, deleting inappropriate images or files on electronic devices, including mobile phones.
"It is critical to educate young people about the risks of sending intimate photographs," he said.
In October 2013, a NSPCC/ChildLine survey found six out of ten teenagers have been asked to send sexual images or videos to another person.
Baker was responding to a call from Conservative MP Sarah Wollaston to ban some teenagers from using smartphones altogether.
Wollaston said: 'Many young people have been pressured into sending intimate photographs of themselves only to find that those images are sometimes posted, distributed or shared without their consent, which is an important form of bullying and harassment.
"I'm calling for a review of measures that could be used to prevent the sharing of sexual images of children.
"There is a very serious case for asking the Justice Department and the Home Office to consider whether, in some circumstances, there are some teenagers who should not have a smartphone."
However, allowing teachers to search pupils' phones without warning has been labelled as "excessively intrusive" by human rights group Liberty.
In a statement given to the Times Educational Supplement, the director of Liberty, Shami Chakrabarti said: "Of course schools play an important part in their pupils' safety but excessive intrusion teaches kids very little about dignity and fairness.
"Asking teachers to play policeman to their students risks destroying a sacred relationship of trust. Confiscating mobile phones and looking through the phone records, text messages and address lists is proportionate for terrorism investigations, not breaches of school rules."
Unions have also expressed discontent over the issue. Chris Keates, General Secretary of the NASUWT (the largest teachers' trade union in the Uk), said: "It is completely inappropriate for teachers to be placed in the position of 'policing' pupils' phones.
"Schools can make a valuable and important contribution to advising pupils on how to keep safe when using the internet and social media but it is not teachers' responsibility to scrutinise and censor phones."