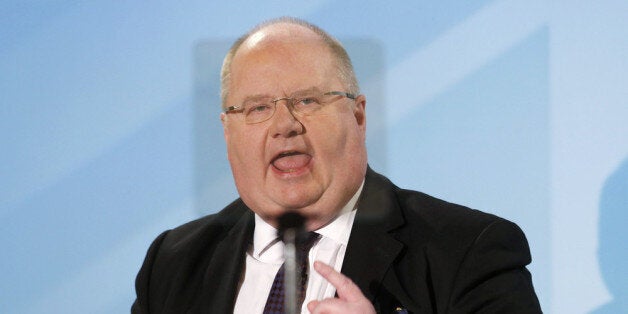 Here are the five things you need to know on Thursday 30 January 2014...
1) ARE WE ALL IN THIS TOGETHER? REALLY?
"Britain's 10 worst-off areas will suffer the biggest council cuts – as some rich Tory authorities get budget rises, research shows. Deprived boroughs in Liverpool, London, Manchester and Middlesbrough, will lose ten times more from the government than the ten richest. The reason lies in funding formulas used by the Tory-led Government which hits Labour-held areas hardest. These local authorities will have their budgets slashed by an average 16.9% during this Parliament, but Tory-controlled councils will lose just 6.6% and Lib Dem councils, 7.8%. But Communities Secretary Eric Pickles is hitting worst-off areas harder. Liverpool will lose 27.1% in funding from 2010-15, Hackney in London, 27%, Manchester City Council, 26%, Middlesbrough, 24% and Birmingham, 23.3%. But Tory-run Wokingham, one of the richest areas in England, will get a 1.1% rise and Education Secretary Michael Gove's council of Surrey Heath will receive a 0.9% increase in funding."
We're all in this together, eh?
"The Army is to be sent to Somerset in an attempt to relieve villages left stricken by floods, the Government agreed last night amid fears of a further storm tomorrow.
"Pressure has been mounting on Owen Paterson, the Environment Secretary, as his handling of the crisis was criticised after a visit to the area during which he was heckled by angry residents.
"The announcement of likely military involvement came hours after David Cameron said in the Commons that the severe flooding which had hit swaithes of Britain was 'not acceptable' and preparations for dredging rivers must be speeded up. Yesterday, after a meeting of the Cabinet Office's emergency Cobra committee, Mr Paterson agreed to send in the Army to help families hit by flooding on the Somerset Levels."
"Nick Clegg has signed up to a plan drawn up by Theresa May to strip foreign-born terror suspects of British citizenship – a move that would render them stateless – if they are judged to present a threat to national security.
"In a last-ditch bid to reduce a damaging Tory rebellion in the Commons on Thursday, the home secretary rushed out the plan which was branded by Liberty as 'irresponsible and unjust'."
Meanwhile, my HuffPost colleague Ned Simons reports:
"David Cameron will attempt to avoid an embarrassing double Conservative rebellion over Europe today, when his flagship Immigration Bill returns to the Commons today... The prime minister is facing a rebellion over two backbench Tory amendments - both of which the government can not support as it believes they would be illegal under EU law. The first, tabled by Nigel Mills and signed by around 70 backbenchers, calls for restrictions to be placed on on migrants from Romania and Bulgaria working in Britain until the end of 2018. The second, tabled by Dominic Raab and with the backing of around 100 MPs including some Labour backbenchers, would block foreign criminals appealing against deportation by claiming a right to a ''family life'' in the UK."
BECAUSE YOU'VE READ THIS FAR...
Watch this funny video of a reporter trying to ask politicians arriving at President Obama's State of the Union speech who designed their clothes.
4) IDS VS COUNCIL OF EUROPE
Iain Duncan Smith has a new set of critics. They're European. And he's not happy. My HuffPost colleague Asa Bennett reports:
"Iain Duncan Smith has lashed out at the Council of Europe's 'lunacy' for calling on the UK to raise the amount of benefits paid out from their 'manifestly inadequate' levels.
"The work and pensions secretary said: 'It's lunacy for the Council of Europe to suggest welfare payments need to increase when we paid out £204bn in benefits and pensions last year alone.'
"A report by the Council of Europe's committee on social rights (ECSR) concluded that the level of the UK's incapacity benefits, jobseekers' allowance and statutory sick pay were 'manifestly inadequate' and so 'not in conformity' with Article 12 s.1 of the European Social Chapter, which governs the right to social security among signatories."
Guess who's in town? From the Times:
"François Hollande will use a pub lunch with David Cameron today to cast doubt on the Prime Minister's strategy for reforming the European Union.
"The French President will travel to RAF Brize Norton for an Anglo-French summit that will culminate with a trip to a Cotswold gastropub.
"Mr Hollande, whose personal life is in turmoil after his love affair with the actress Julie Gayet, is expected to tell Mr Cameron that his plan to win back powers from Brussels through treaty change is set to fail."
Ed Miliband - whom the Tories are desperate to brand as 'Britain's Hollande' - will not be meeting the French president during his visit to the UK.
From the Sun/YouGov poll:
That would give Labour a majority of 32.
Rafael Behr, writing in the New Statesman, says: "Miliband doesn't want to sack Balls – he just wants to steal the Treasury's power."
Martin Kettle, writing in the Guardian, says: "Economic recovery helps the Tories - but it won't win them the next election."
Tim Montgomerie, writing in the Times, says: "Forget the family, forget about social mobility."
Got something you want to share? Please send any stories/tips/quotes/pix/plugs/gossip to Mehdi Hasan (mehdi.hasan@huffingtonpost.com) or Ned Simons (ned.simons@huffingtonpost.com). You can also follow us on Twitter: @mehdirhasan, @nedsimons and @huffpostukpol