Ross Kemp proved his hardman persona is not all bluster, when he took on a bunch of armed soldiers who had surrounded the star and his crew filming in Papua New Guinea.
The former soap star faced down three guerrillas in the jungle near Mt Hagen, while they were filming a series of 'Extreme World 3'.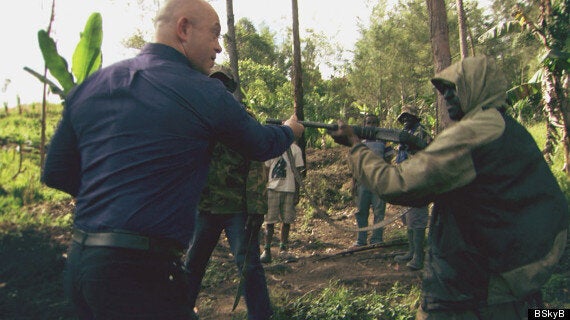 On a mission to interview The General, who rules the surrounding slums with the help of a violent gang of robbers, Kemp and his team were surprised by soldiers with rifles and shotguns, who appeared suddenly from the bushes along the pathway, and demanded the group kneel down.
But Kemp was having none of it. He said to one, "Are you gonna kill me? No one's gonna f*****g kill me!"
WATCH the video above to see what happened next.
Kemp later described the region as being one of the most violent he had encountered on his many travels.
Extreme World 3 continues on Tue 4 Feb at 9pm on Sky1 HD
Related