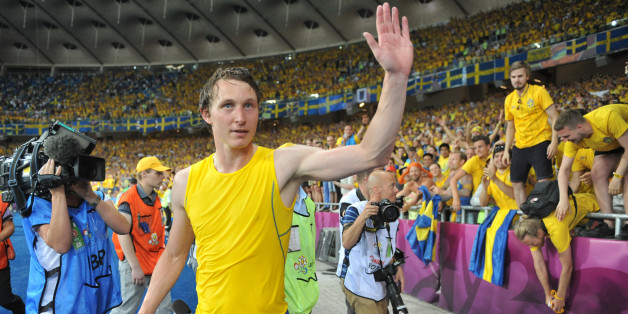 GENYA SAVILOV via Getty Images
Arsenal recorded their third consecutive 2-0 Premier League home win but scepticism over their title credentials appears to grow, rather than abate.
Last time at the Emirates Stadium, a Santi Cazorla double overcame Fulham and on Sunday it was Alex Oxlade-Chamberlain's turn to ease supporters' concerns after an encouraging first 45 minutes from Crystal Palace.
Oxlade-Chamberlain became the 17th player to score for the Gunners this season, as Arsenal continue to heavily rely on those further back, rather than up front. Olivier Giroud has excelled so far, yet there are legitimate concerns over the profligate Lukas Podolski, who was so anodyne on Sunday it perhaps explained the unusual roar which greeted Nicklas Bendtner's arrival.
Arsenal 2-0 Crystal Palace: Gunners Win But Lukas Podolski Problem Persists
However, Arsenal are winning without impressing, a trait they have not been associated with in many years.
"It was very difficult to create space and on our side we needed to be patient, intelligent and use our opportunities that came in the second-half," Arsène Wenger said. "What I must say is that our defensive stability doesn't create unrest in the team and allows us to continue the play way we want to play. At home we don't concede and then you don't have to rush our game too much."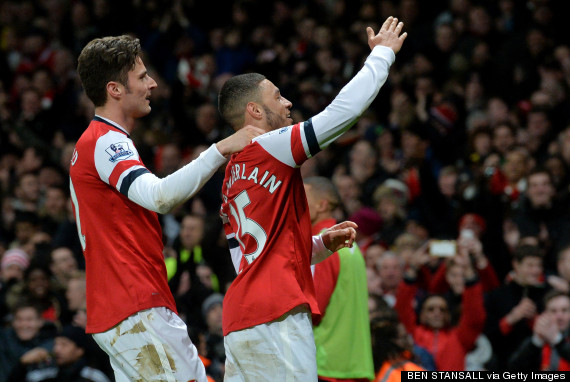 Oxlade-Chamberlain hit his first goals of the season at the Emirates on Sunday
Wenger digressed with particular relish when asked about Oxlade-Chamberlain's progress this season. "It took him a while to get back because he was injured against Aston Villa on that famous day," he remarked about the 3-1 August loss. Wenger has earned it, given how his team have played in the last 23 League games, and it was time for that age-old question again: Can Arsenal win the title?
"I've faced that question since the start of the season," Wenger said. "And we are today where we are, that cannot be a coincidence. You cannot be lucky over 24 games, that is for sure.
"Because you, in the last seven years have ingrained that in your brain," Wenger replied when it was suggested neutrals are hesitant to trumpet Arsenal's credentials. "It is very difficult to get out now. But I can understand that. I can understand that completely, because we haven't done it [won the League] for a while and I must say we face quality competitors. We do not play against average teams. Man City has scored over 100 goals so everybody thinks 'Can you beat this team?' I say yes but that's what we have to show. The only thing I can say after 24 games is we are there and it's now how we finish the season."
Wenger revealed he will watch Monday night's petrodollar derby "with interest because it's two competitors against us and it will be interesting to see how they behave." Liverpool and Tottenham may be outside of the Gunners' slipstream, but Wenger referred to their dropped points over the weekend as an extra boost, and there is the consolation City and Chelsea could take points off each other at Eastlands.
The Arsenal manager also addressed Kim Källström's fitness and why he moved for the 31-year-old Swedish midfielder, who will be fit in late-February at the earliest.
"That is the best case scenario," the Frenchman admitted. "If you have played football you can play with a micro-fracture of your vertebra without even noticing it, because on normal scans you don't find out."
Wenger also admitted he would have rejected the chance to bring in Källström if he had more time to reinforce his squad.
"I would not have signed him if we had two or three more days to do something. It was Friday night at five o'clock, it was then you sign nobody or you do it under these conditions. So I decided to do it, because of the number of games we have in February, we need the players in March and April."
On the chance Källström might never play for Arsenal, Wenger replied: "There is a possibility for every single player but there is the possibility he might score a winning goal that might be vitally important. But at some stage in our job, you have to make a decision - are you wrong or right - and you will only know at the end of the season.
"I made this decision because all of our central midfielders, since the start of the season, have missed a part of the season. Is it Flamini? Is it Wilshere? Is it Arteta? Is it Cazorla? All of them have missed, through injuries, a part of the season. In the first four to six weeks we have not sorted that out.
"It crossed my mind [to sign Källström] after the resurgence of Ramsey because everybody says he's back in six weeks, but because he's had two setbacks it gives you a guarantee that he will not last longer and after Tuesday night, of course, again because Wilshere couldn't play.
"I know the player very well, personally," Wenger added of Källström. "He has 108 caps for Sweden and he has played for seven or eight years in France, so I know him very well.
"We are not against spending but at the moment we are focused on the second part of the season and at the end of the season we will see what we do. You have announced a lot of transfers in your papers that have not happened. In many places, that means it's not as easy as it looks, even with money to buy players in that period."