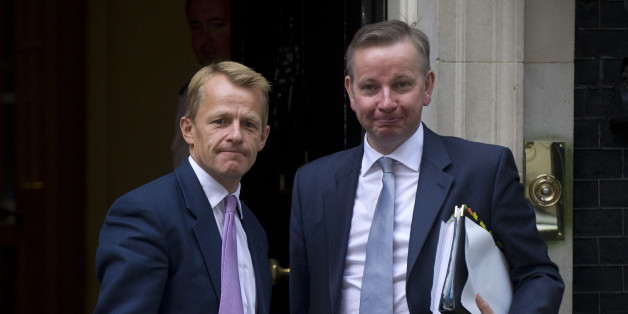 CARL COURT via Getty Images
Here are the five things you need to know on Sunday 2 February 2014...
1) GOVE UNDER FIRE
The education secretary is under fire - from the schools minister. The 'reformist' Tory Gove has always been quite friendy with the 'reformist' Lib Dem David Laws - until this weekend, that is. The cause of the row? Gove's decision to remove Ofsted chair, and former Tony Blair adviser, Sally Morgan, and replace her with a private equity boss. The Sunday Times splashes on the story:
"The education secretary was the target of an extraordinary attack by his Liberal Democrat deputy yesterday over the sacking of a schools quango boss. In a row that is threatening to escalate into a full-blown coalition war, Michael Gove has been accused of undermining the independence of Ofsted, the education standards watchdog, by removing its chairwoman. Baroness Morgan was shocked to discover that her contract was not being renewed despite a glowing performance review... Last night Gove's normally loyal Lib Dem deputy, David Laws, made little secret to colleagues of his anger. A source close to the minister said: 'David is absolutely furious at the blatant attempts by the Tories to politicise Ofsted. The decision to get rid of Sally Morgan had absolutely nothing to do with her abilities... and everything to do with Michael's desire to get his own people on board.'"
Gove, speaking on this morning's Andrew Marr show on BBC1, said Morgan was a "good egg" but public bodies needed to be "refreshed" to provide them with a "new perspective". Marr asked Gove whether he'd sacked her because "she's Labour", a point the education secretary denied, highlighting the appointment of former Labour adviser Simon Stevens to head NHS England. Gove said he'd be happy to appoint former-Labour-types in the future, singling out ex-ministers John Reid and John Hutton (two of the most right-wing members of the New Labour cabinets).
Meanwhile, the Mail on Sunday reports that the education secretary wants a "return to old-fashioned discipline in the classroom"; Gove tells the paper: "Writing lines is tedious, monotonous, boring – and a perfect punishment for bad behaviour. Children need to learn the importance of strong discipline and to understand that misbehaving at school has consequences. We are making crystal clear to teachers that telling pupils to write lines is an entirely appropriate punishment."
Perhaps he should write his own...
2) LABOUR'S BLACK HOLE
The row over Labour's internal party reforms (don't yawn at the back!) continues - from the Mail on Sunday:
"Ed MIliband's flagship reforms to Labour's union links could leave a multi-million-pound funding black hole for the party, officials admitted last night. They revealed the shake-up could lead to a £4 million cut in income, sparking Tory claims the change could leave Labour even more at the mercy of wealthy union barons... The reforms would see future leadership contests decided by a one-member, one-vote election, not the current system where unions have a third of the votes.
Mr Miliband has also proposed ditching the current system where members of unions 'affiliated' to Labour automatically pay a levy unless they opt out. But a Labour source admitted the party could lose up to half its current £8 million income from affiliated members. He said: 'This is the right thing to do but we have always said we expect to take a financial hit from this.'"
Deputy Labour leader Harriet Harman, speaking on the Andrew Marr show, defended the reforms, saying they'd "breathe fresh life into the party".
3) UNITE THE RIGHT?
Some startling poll findings for CCHQ in today's Observer:
"Almost half of Conservative activists now want David Cameron to forge some sort of pact with Ukip before the 2015 general election, in a sign of mounting nervousness over the threat they face from Nigel Farage's anti-EU party. A poll of more than 1,000 activists taken by the ConservativeHome website and obtained by the Observer found that 41% favour a pact, while 54% reject the idea. The number in favour has risen by 7% compared with last May, when the same questions were last asked. The findings will alarm the Conservative leadership, which has strongly rejected any form of pact with Ukip, even though several Tory seats are seen as definitely at risk from Farage's party splitting the rightwing vote... The Tory backbench MP Jacob Rees-Mogg angered the leadership last year by suggesting his party should allow Ukip to win parliamentary seats in order to avoid splitting the Eurosceptic vote."
How times change...
BECAUSE YOU'VE READ THIS FAR...
Watch my 60-second video round-up of the week's big political stories: 'Mehdi's Minute'.
4) SMOKED OUT
Jeremy Hunt may have just won himself some new admirers on the liberal-left. The government may oppose the ban on smoking in cars with kiddies in them, but the health secretary, apparently, now doesn't. The Sunday Times reports:
"The health secretary Jeremy Hunt is to back moves to ban parents from smoking in cars carrying children. In a coup for the campaigners, the cabinet minister has concluded that there is a compelling case for protecting youngsters from tobacco smoke while they are in an enclosed space... Asked about the issue in the past, Hunt said it was not the government's place to dictate what people do in private places. However, the health secretary, who has two young children, appears to have changed his mind, undergoing a similar conversion to Andy Burnham, the shadow health secretary."
5) WITH FRIENDS LIKE THESE
Never forget that President Karzai of Afghanistan is supposed to be 'our' man in Kabul - from the Sunday Times:
"The Afghan president, Hamid Karzai, has been accused of 'spitting on the graves' of British soldiers after he said Helmand would have been better off if UK forces had never set foot there. In an interview with The Sunday Times, Karzai described the Taliban as 'brothers' and America as 'rivals' as he criticised the record of the West during the 12-year war. In contrast to David Cameron's recent claim that it was 'mission accomplished' for troops in Afghanistan, Karzai said that '. . . the US-led Nato mission in terms of bringing security has not been successful, particularly in Helmand'. Asked whether it would have been better if British troops had never gone there, Karzai replied: 'I guess so. Yes.'"
The president may have expressed himself in an un-diplomatic fashion but it's difficult to disagree with his big point: the west has sacrificed blood and treasure in the killing fields of Helmand and elsewhere for more than 12 years to achieve... what?
QUOTE UNQUOTE
Harman vs Gove on Marr - Harman: "What is your problem, in your government, with women? It's like raining men in the Tory Party". Gove: "We don't have a problem with women in the Tory Party - we made one prime minister and she did a fantastic job."
PUBLIC OPINION WATCH
From the Observer/Opinium poll:
Labour 36
Conservatives 29
Ukip 17
Lib Dems 8
That would give Labour a majority of 84.
From the Sunday Times/YouGov poll:
Labour 39
Conservatives 34
Ukip 11
Lib Dems 8
That would give Labour a majority of 60.
140 CHARACTERS OR LESS
@RogerHelmerMEP Labour accuses the Tories of putting their people in top jobs in public bodies. Of course Labour when in power never did anything like that.
@jameschappers 'There's nothing wrong with Sally,' Gove says. Simply 'good corporate practice' to shuffle deckchairs. Hmm #marr #ofsted
@johnprescott Gove reveals Government principle that after 3 years they bring in 'a fresh pair of eyes.' Gove's been Education Secretary for 4 years #marr
900 WORDS OR MORE
Adam Boulton, writing in the Sunday Times, says: "With every prod of their pitchforks, Tory rebels leave Cameron weaker."
Andrew Rawnsley, writing in the Observer, says: "Ed Miliband boldly goes where even Tony Blair feared to tread."
Matthew D'Ancona, writing in the Sunday Telegraph, says: "The Prime Minister should have stood firm in the face of Tory revolt."
Got something you want to share? Please send any stories/tips/quotes/pix/plugs/gossip to Mehdi Hasan (mehdi.hasan@huffingtonpost.com) or Ned Simons (ned.simons@huffingtonpost.com). You can also follow us on Twitter: @mehdirhasan, @nedsimons and @huffpostukpol