"Oh hi, London," giggled Taylor Swift, as she took to the stage for the first of her sold-out five nights at the capital's 02 Arena, with a mischievous glint in her eyes.
The Bambi-like country gal, turned international pop phenomenon, opened the UK leg of her tour to 15,000 frenzied teenage girls with the guitar-led, rousing 'State Of Grace' - the first song from her number one album 'Red'.
And red was to be the theme of the night…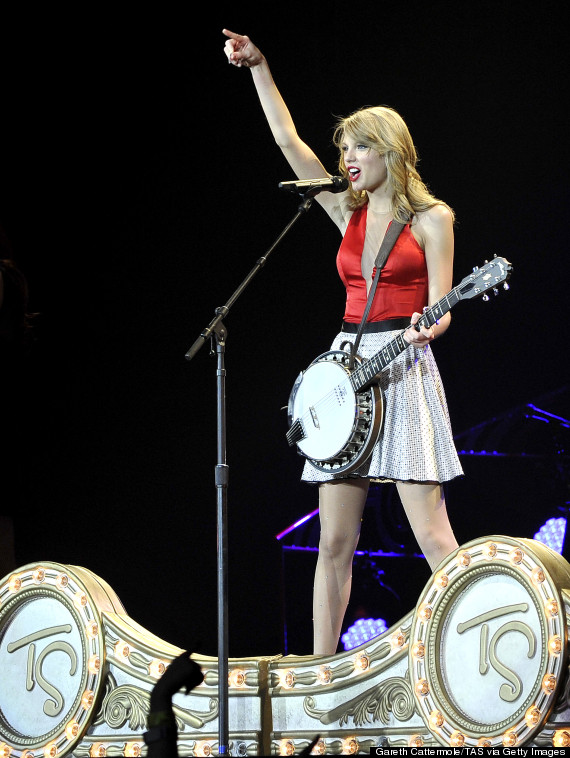 In the least diverse audience I've ever seen, blonde, fringed teens wore red lipstick like their idol. They held up flashing signs spelling the word that signifies many of the emotions on Taylor's album and tour. Jealousy, trouble (we're looking at you Harry Styles), lust and love.
"You made me believe it can Begin Again," read one placard - a nod to Taylor's ballad about finally falling for a nice guy. The fans don't just like her catchy country-infused hits, they believe every word of them.
And Taylor - dressed in red sparkly shoes and clutching a red sparkly mic - wasn't going to take their adoration for granted. She explained how she was once that girl in school no one liked. Then she asked, banjo in hand, "Can I get a picture with you guys?" A well-placed photographer was at hand to capture the moment, as Taylor broke into her original teenage angst song, which asks "why you gotta be so mean?"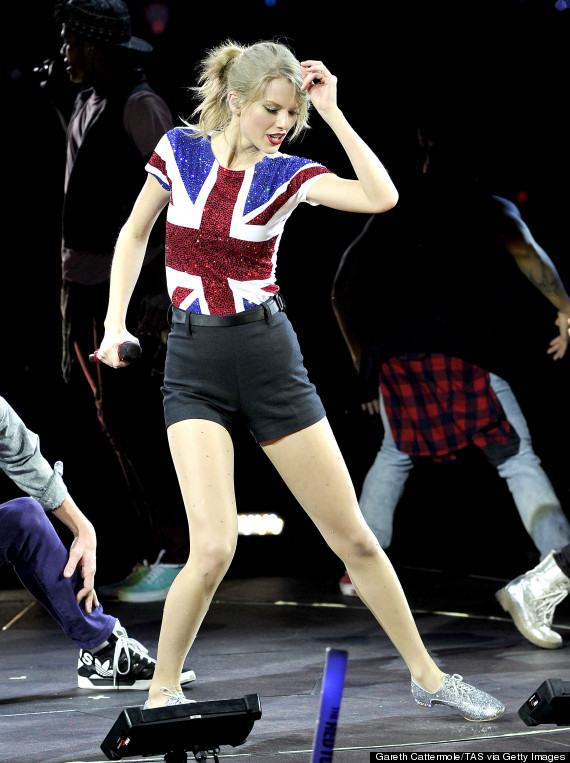 MORE: Taylor Swift 'Red Tour' Debut London O2 Show Interrupted By Stage-Invading Fan
When she sat with an instrument in hand, Taylor seemed most at ease and a montage of videos of her singing with a guitar, from the age of four, was played to remind the arena of her musical roots. Lest we forget, Taylor - who was raised in Wyomissing, Pennsylvania and moved to Nashville, Tennessee at the age of fourteen to pursue a career in country music -writes her own songs and can actually sing.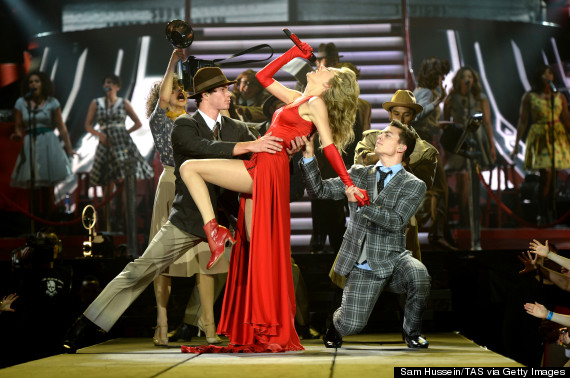 By the time a clip of her clutching an armful of Grammys and pronouncing "I'm going to celebrate this for the rest of my life" was shown, the fans were grabbing their straightened hair and wailing.
It's no secret that Taylor's geeky nature is what makes her so appealing for some and so annoying to others. But, if anything, it's a welcome break from the over-sexualised performances of pop's fellow 20-something females.
That's not to say the 24-year-old, with her feline gaze and impossibly long, slender, legs doesn't have sex appeal. For her huge hit 'I Knew You Were Trouble', she relived that raunchy 2013 Brits performance, first appearing in a wedding dress only to have it torn off to rock out in black hot pants. But for her party anthem '22', she was back to the gawky, anti-cool, teenage image.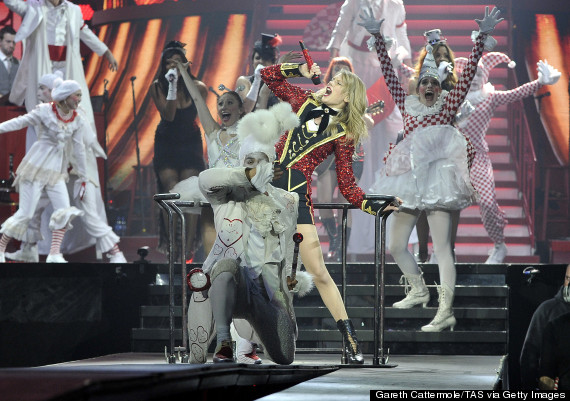 Taylor's relationships, from John Mayer to Harry Styles, are just as talked about as her music. So it seemed fitting that she welcomed one of her rumoured love interests on stage - her best English pal and collaborator Ed Sheeran. However, instead of performing their duet 'Everything Has Changed', they sang Ed's 'Lego House', much to the crowd's delight.
"He's come on his day off to be here with you all," said Taylor, seeming genuinely grateful.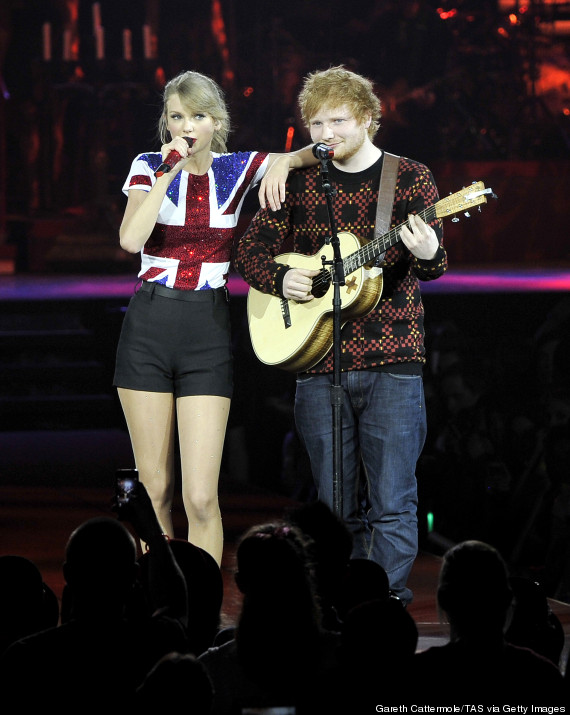 Amping up the romance and lust for her Romeo and Juliet-inspired 'Love Song', she wore a stunning white gown, twirling around ballet dancers, dressed as wind up dolls, in a period drama piece. Let's face it - the 'Red' tour was always going to be dramatic.
The super slick show seemed to end too soon, culminating with a circus-themed set, confetti, Taylor in a top hat and perhaps one of the catchiest songs of the last few years, 'We Are Never Ever Getting Back Together'. So that's how she does it, selling over 26 million albums worldwide... but what about an encore?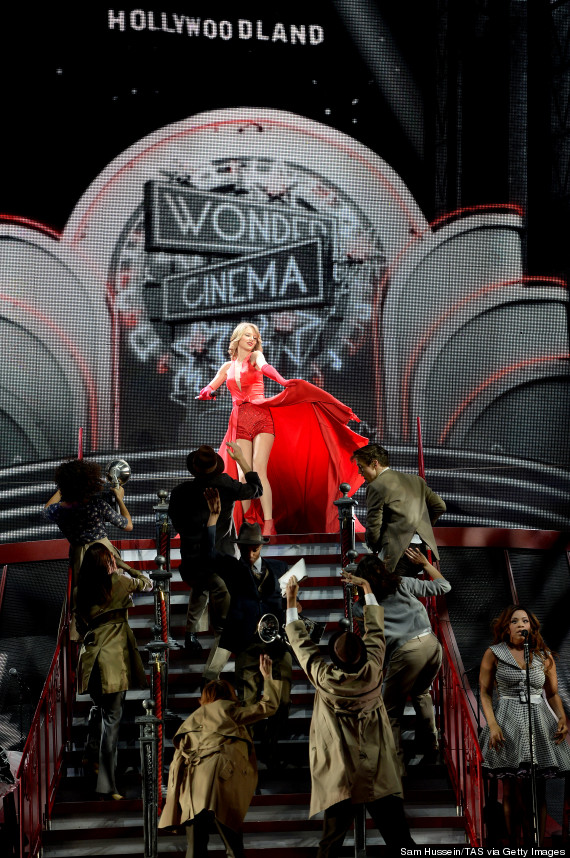 LIKE US ON FACEBOOK | FOLLOW US ON TWITTER