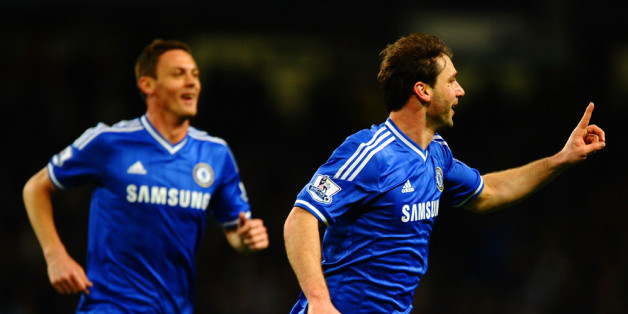 Laurence Griffiths via Getty Images
Chelsea ended Manchester City's winning run at home with a richly deserved 1-0 win at the Etihad Stadium on Monday evening.
A first-half Branislav Ivanović strike proved to be the winner as Chelsea hit the woodwork three times in what was their most impressive display under José Mourinho since his return.
Here are five talking points...
MOURINHO THE MASTER
With the exception of Nemanja Matić, Samuel Eto'o and WIllian the Chelsea XI featured squad members who finished third in the Premier League and 14 points behind Manchester United last season. Appropriately, Mourinho reserved his best yet this term for the city he was pining to work in as he showed David Moyes the art of transition, with a few changes along the way.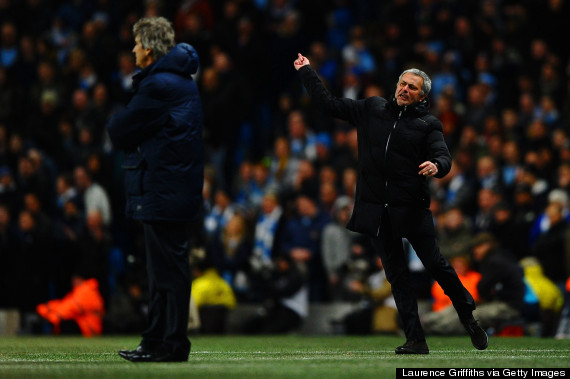 Mourinho's tactics were flawless at the Etihad Stadium
"José Mourinho, your football is shite," City fans chanted. It has been occasionally but it wasn't on Monday night. Chelsea were imperiously led by John Terry, Matić slipped seamlessly into the midfield to help David Luíz and Ramires boss Yaya Touré and Martín Demichelis, while Eden Hazard delivered a dexterous and determined attacking masterclass. They unsettled City more than Liverpool did in December and although Manuel Pellegrini's side remain above Chelsea on goal difference, the west Londoners boast the superior manager and the difference was striking.
RODWELL ON THE BRINK AFTER DEMICHELIS INCLUSION
Martín Demichelis may not like it, but he is more comfortable in central midfield rather than the centre of defence. At 33, he is too old to thrive consistently alongside Vincent Kompany, whose auspicious partnership with Matija Nastasicć should not be compromised just because of the Argentine's arrival.
Versus Chelsea, the 33-year-old was preferred ahead of the unremarkable Javi García, 26, and Jack Rodwell, who turns 23 next month. The latter is now fourth-choice (fifth, if James Milner is included) defensive midfielder at City and he must surely regret not securing a loan move until the end of the season. One of the odder Roberto Mancini signings (he cost an unfathomable £15 million), it is difficult to see a way back for him at Eastlands after this latest setback.
HAZARD RESEMBLING RONALDO
Two days ago, Barcelona lost their first Primera Liga match at Camp Nou in nearly two years. In April 2012, Mourinho's Real Madrid arrived in Catalonia brimming with confidence having failed to win four times previously at their adversaries under the Portuguese, and were inspired by Cristiano Ronaldo. Eden Hazard, with his fleet of foot cutting in from the left, is beginning to mirror Ronaldo and reduced compatriot Kompany, usually so serene, to frenzied bulldog defending.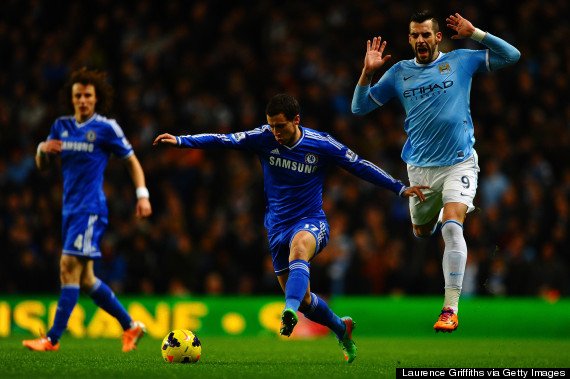 Can't touch this: Hazard has been one of the best attackers in the League this season
At times, it was too easy for him as he ostentatiously mocked the hosts with his variety of flicks and tricks. It is testament to his quality that only Bayern Munich's Hollywood line-up have been such a box office draw.
PELLEGRINI MAY HAVE TO RE-THINK FORWARD APPROACH
Yes, Sergio Agüero and Fernandinho's absences contributed to Chelsea's dominance, but when you spend over £100m you are expected to adapt and City came horribly unstuck against their main competitors for the title. They were too open and however vulnerable Demichelis looked it was more of a consequence of him appearing to be the only member of the front six willing to defend. As a result, he was chasing Hazard's shadow.
With Barcelona on the agenda in a fortnight's time and Agüero likely to be fit, it will be fascinating to see whether Pellegrini opts to persist with his two-striker approach. Demichelis, though, dashed any chance he had of offering Fernandinho aid against Barça's wee wonders.
MATIĆ OFFERS CHELSEA GREATER PROTECTION
If Fernandinho was conspicuous by his absence then Matić was by his presence. Although he briefly sampled English football during his initial two-year spell at Stamford Bridge, the manner in which he adapted to a tense and pivotal Premier League match at such daunting opponents was remarkable for a player who has spent three years in the mundane Portuguese Primeira Liga.
David Luíz remains an interim fix in midfield to shield Chelsea's back four, but Matić is a more composed and controlled option, which is exactly why Mourinho was willing to part with £21m for a player Chelsea let go for a seventh of that amount three years ago.