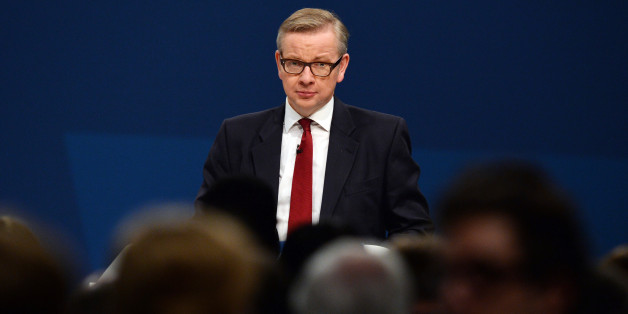 PAUL ELLIS via Getty Images
Here are the five things you need to know on Monday 3 February 2014...
1) COALITION'S CRONIES?
The Guardian and the FT both splash on the Gove 'cronyism' row, which kicked off over the weekend. The Guardian reports:
"Downing Street will on Monday be dragged into the row over the sacking of the former Blair aide Sally Morgan when the cabinet secretary is asked to explain a 'pattern of behaviour' that has seen the removal of a series of non-Tory supporters from high-profile public bodies. As Michael Gove defended the removal of Lady Morgan, chair of Ofsted, as 'good corporate practice', shadow cabinet office minister Michael Dugher said he would write to Sir Jeremy Heywood after the sacking of several high-profile figures. Dugher told the Guardian: 'There are questions to answer about what seems to be a pattern of behaviour in Whitehall where non-Conservatives are replaced by Conservatives.'"
The FT points to the "recent removal of Labour-affiliated figures... [including] Liz Forgan, former chair of the Arts Council, and Dame Suzi Leather, previously chair of the Charity Commission. She was replaced by William Shawcross, a Tory supporter, and late last year Patricia Hodgson, a former Tory candidate, was confirmed as new head of the communications watchdog Ofcom. Lib Dem schools minister David Laws hit out against his boss, saying Mr Gove was guilty of trying to get his 'own people' into Ofsted, but a senior Tory official retaliated: 'We are just getting on with running the country.'"
Meanwhile, Gove's former permanent secretary at the department of education says: "The [row over Ofsted] shows the importance of retaining, and being seen to retain, independent voices near the top - not simply 'yes men'. There is a far wider group of... voices across the schools sector, higher education, industry and the voluntary sector, who offer an intelligent critique of where we are now."
Are you listening, Michael? Meanwhile, the Times reports that Nick Clegg is insisting the Lib Dem schools minister David Laws will decide who succeeds Morgan as chair of Ofsted; a Lib Dem source told the paper the party would exercise a a veto on "Tory donor ideologue" Theodore Agnew, who is rumoured to be Gove's preferred choice as Morgan's successor.
On a related note, the Independent splashes on a "fresh controversy" for the education secretary - the paper reports that "his department's savage spending cuts have forced sixth-form colleges to scrap A-level courses in core subjects such as languages and maths, regarded by the Government as crucial to the future of Britain's economy".
2) FATTY FRIENDS
From cronyism to lobbying - more questions for coalition ministers to answer, this time courtesy of the Daily Mail:
"The food industry lobby has been given unprecedented access to the heart of government, a Daily Mail investigation has found. Fast food companies, supermarkets, restaurant chains and chocolate and fizzy drinks firms have had dozens of meetings with ministers. Yet health campaigners say they have been shunned - at a time when the Coali tion has been resisting calls for tough laws to restrict the amount of sugar in food. McDonald's, Mars, Pepsi, Nando's and Tesco are among firms invited to ministerial meetings since the 2010 election. The Food and Drink Federation, the lob byist for the food industry which has led opposition to calls for anti -obesity legislation, has had 16 meetings with ministers and 99 meetings with officials since the Coalition took over, official figures reveal."
3) TOWN OR COUNTRY?
Talking of controversial quangos run by Labour people, how's the Environment Agency - under the leadership of ex-culture secretary Chris Smith - doing? The Telegraph splashes on Smith's defence of his organisation:
"Britain must decide whether to protect 'town or country' from flooding because it can't afford to protect both, the chairman of the Environment Agency says today. In an article for The Daily Telegraph, Lord Smith of Finsbury says the country must make 'difficult choices' about which areas it wants to defend because 'there is no bottomless purse'. Lord Smith's comments follow a week in which the Environment Agency was criticised for its reaction to the floods in the Somerset Levels. But in his article, he defends the embattled organisation. Comparing the situation with similar floods of 1953, he claims that while the recent weather has caused 'terrible distress for the 40 home owners who have been flooded' it has not resulted in the death of more than 300 people, as was the case 60 years ago."
BECAUSE YOU'VE READ THIS FAR...
Watch this video of a dog DJ-ing at a gig. You know you want to.
4) BATTLING WITH 'BILLIONAIRE'S ROW'
Forget Benefits Street, check out Billionaire's Row - aka Bishop's Avenue. From the Guardian:
"Labour has accused the Conservatives of being obsessed by taxing the poor for unoccupied bedrooms while refusing to act against the super-rich who keep mansions empty for years. The allegations follow the Guardian's revelation at the weekend that a third of houses on the most expensive stretch of 'Billionaires Row' in Hampstead, north London, are standing vacant. The London mayor, Boris Johnson, called on more town halls to levy a punitive 50% extra council tax on owners of empty homes. But Labour immediately hit back saying it was not enough to end the 'scandal'."
The Guardian says "at least £350m worth of property is sitting unused in The Bishops Avenue". Such shocking stats help make the case for a wealth tax, not just an unused property tax. So, Lib Dems, are you up for it?
5) IS JOHN KERRY "ANTI-SEMITIC"?
Of course he isn't. But that doesn't stop some of Israel's most right-wing politicians - who happen to be in government! - from making the (ludicrous) accusation. The Telegraph reports:
"The US secretary of state was accused of supporting 'anti–Semitic' interests yesterday after warning that Israel faced an economic boycott if it failed to reach a peace agreement with the Palestinians. John Kerry made the comment as he held talks with his Iranian counterpart, Mohammad Javad Zarif, in Munich, where they promised to step up diplomacy on Tehran's nuclear programme. Ministers in the cabinet of Benjamin Netanyahu, the Israeli prime minister, accused Mr Kerry of effectively endorsing 'anti–Semitic' efforts to impose sanctions on the country. 'The risks are very high for Israel,' Mr Kerry told the conference. 'People are talking about boycotts. That will intensify in the case of failure.'"
First of all, endorsing a boycott of Israel over the illegal occupation of Palestinian lands isn't anti-Semitic. Second, Kerry wasn't even endorsing such a boycott, he was merely warning his Israeli allies of the political and economic danger posed to their country from such a boycott. But don't let the facts get in the way of a smear, eh?
RIP PHILIP SEYMOUR HOFFMAN
The award-winning Hollywood actor was found dead at his New York apartment yesterday, apparently as a result of a drug overdose. He was 46.
PUBLIC OPINION WATCH
From yesterday's Sunday Times/YouGov poll:
Labour 39
Conservatives 34
Ukip 11
Lib Dems 8
That would give Labour a majority of 60.
140 CHARACTERS OR LESS
@NadineDorriesMP I've just deleted a tweet because it made me feel mean :( too soft for politics, me
@HackneyAbbott So sad Philip Seymour Hoffman has died. Brilliant screen actor
@JBeattieMirror We will not brief against each other, we will not brief against each other, we will not brief against each other, we will not brief against
900 WORDS OR MORE
Chris Huhne, writing in the Guardian, says: "The Conservatives are now a party more interested in ideological purity than power – and the voters won't like it."
Melanie Phillips, writing in the Times, says: "Gove needs more allies against "un-teaching'."
Nigel Farage, writing in the Independent, says: "Ukip has done more than any other party to destroy the racist BNP."
Got something you want to share? Please send any stories/tips/quotes/pix/plugs/gossip to Mehdi Hasan (mehdi.hasan@huffingtonpost.com) or Ned Simons (ned.simons@huffingtonpost.com). You can also follow us on Twitter: @mehdirhasan, @nedsimons and @huffpostukpol