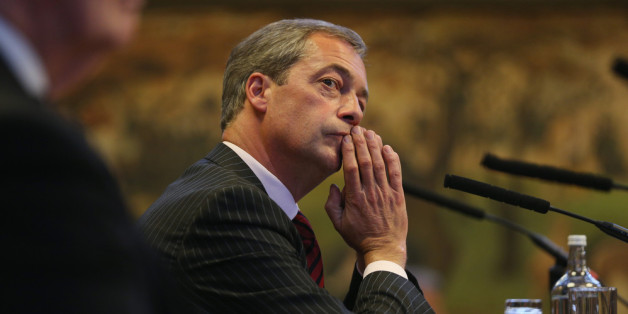 Oli Scarff via Getty Images
Here are the five things you need to know on Tuesday 4 February 2014...
1) FORMER UKIP SPOKESMAN WAS LEADER OF KIDNAPPING GANG
A Newsnight report has revealed that the man who served as Ukip's Commonwealth spokesman for more than a year is the former head of a kidnapping gang in Pakistan.
According to the BBC, Mujeeb ur Rehman Bhutto led a Karachi-based outfit that carried out a number of high-profile kidnappings in 2004, securing a ransom payment of £56,000 in Manchester. Bhutto was convicted of the offence in 2005 and sentenced to seven years by a UK court after admitting he was the "boss" of the gang.
Having been contacted by Newsnight, Ukip said that Bhutto had resigned his party membership, adding: "When we recently became aware of possible issues relating to his past and raised the matter with him, he resigned his membership."
Today's Memo is edited by Ned Simons as Mehdi Hasan did not secure the required 15% backing as outlined below.
2) LABOUR LEADERSHIP REFORMS
Plans to reform Labour's leadership contests have been changed to give the party more choice and to avoid the impression of a "coronation", Ed Miliband has told his MPs. Instead of requiring candidates to secure the backing of 20% of MPs, the nomination of just 15% of MPs will be needed to get on to the ballot paper, the Labour leader told a meeting of the parliamentary party in Westminster.
The 20% threshold proposed by Lord Collins was opposed by a number of MPs who felt it could narrow the field too much, pointing out that if had been used in 2010, only Miliband and his brother David would have been able to stand. Under the new proposals, contenders would need 39 nominations and as many as six candidates could go forward for a ballot of party members.
Miliband said: "This strikes the right balance between protecting the role of MPs and ensuring a diverse range of candidates going forward."
Lord Collins joined Miliband at last night's parliamentary party meeting to brief MPs on his proposals, which envisage a new system under which trade union members will be asked whether they want to affiliate to Labour as individuals and gain rights to vote in future leadership contests.
3) FALKIRK REPORT PUBLISHED
The internal-Labour report investigating voting irregularities in the campaign to become Labour's parliamentary candidate in Falkirk has been published by The Guardian. The paper reports: "Disclosure of the internal report, commissioned by the party's national executive committee in May, comes as Labour's hierarchy prepares for a crucial NEC meeting on Tuesday that is expected to redefine its historic relationship with the unions.
"The report cited "evidence that members were pressured into completing direct debit forms" by activists from trade union Unite, as they sought the nomination of Karie Murphy. One new recruit, Lorraine Kane, was said to have told a Labour investigator that Murphy had put her under pressure to sign one of the forms."
BECAUSE YOU'VE READ THIS FAR...: Guy Poses As Apple Store Employee, Spouts Nonsense To Customers (VIDEO)
4) HAGUE STATEMENT ON AMRITSAR
The results of a government review into whether the SAS were involved in the 1984 Amritsar massacre are published today amid criticism from Sikh groups that it has been too narrowly focused. Foreign Secretary William Hague is expected to make a statement to MPs setting out the findings.
David Cameron ordered the probe after documents disclosed under the 30-year rule suggested that a British officer helped the Indian authorities with plans to remove Sikh separatists from the city's Golden Temple.
In a letter to the Prime Minister, the chairman of the Sikh Federation Bhai Amrik Singh said he was "hugely disappointed" with the inquiry's "narrow terms" and a meeting with Cabinet Secretary Sir Jeremy Heywood had failed to assuage concerns.
5) WOULD YOU LIKE ME TO BE THE CAT PRIME MINISTER?
George Galloway wants to be the first prime minister of an independent Scotland, should the Outspoken Respect MP fail in his campaign to have Scots vote against the referendum on September 18. The 59-year-old, who represents Bradford West in the Commons, said he would prefer "a real Labour prime minister of the whole of Britain" but would settle for the role of Scottish PM should the vote go against his position.
Scottish-born Galloway, who gained national notoriety for mimicking cat on Celebrity Big Brother in 2006 (video below), made the quip in Edinburgh on Monday during an engagement for his "Just Saw Naw" (Just say no) speaking tour.
"I would fancy being prime minister of Scotland," Galloway said before his appearance at the famous old hall, "but I would rather we had a real Labour prime minister of the whole of Britain." He added: "I want to avoid the break-up of the country which I think will beggar people on both sides of the border, will lead to permanent Tory rule in Westminster and thus the Bank of England which will control the Scottish economy.
140 CHARACTERS OR LESS
@isaby If Anne McIntosh's deselection was proof the Tory grassroots don't like women MPs, is Tim Yeo's sacking evidence they don't like men either?
@BBCNormanS Unite say they have still not been given a copy of Labour's report into alleged vote rigging in #falkirk
900 WORDS OR MORE
Steve Richards in The Independent: Michael Gove is on a political journey. And people he once took with him – like Sally Morgan – are now being left behind
Benedict Brogan in The Daily Telegraph: David Cameron's choice – to stand firm, or dance to Ukip's tune
Rachel Sylvester in The Times: Gove needs to make peace as well as war
Got something you want to share? Please send any stories/tips/quotes/pix/plugs/gossip to Mehdi Hasan (mehdi.hasan@huffingtonpost.com) or Ned Simons (ned.simons@huffingtonpost.com). You can also follow us on Twitter: @mehdirhasan, @nedsimons and @huffpostukpol