It seems nonsensical that, following a 5-0 humiliation during the worst tour in history, England have discarded their best player. Kevin Pietersen was not only their most gifted batsman, but he emerged into the Test fold at the beginning of the most successful era in English cricket for 50 years.
His century sealed their first Ashes win in 18 years, he was man of the match in England's maiden limited overs triumph in the 2010 T20 World Cup final, he made two centuries in the 4-0 whitewash of India, which elevated England to the No.1 Test side in world cricket a year later, and he starred in three successive Ashes series wins.
Had Pietersen not moved to Nottinghamshire in 2001, then Alastair Cook and Ashley Giles' personal careers would be poorer. How ironic the aforementioned duo were instrumental in ending the 33-year-old's international career this week.
The reaction to Pietersen's international end typifies the effect he had on the England team and its followers. His sacking has played out like a blockbuster sequel to the box office performances he gave across the globe, and his role has been limited to just a cameo.
"So sad that this will now be the last time I leave a field in an England shirt... Incredibly overwhelmed by the support overnight! Thank you so much... I love England and I honestly hope they have every success in the future," he said on Wednesday. How gracious and magnanimous. Then Piers Morgan woke up across the Atlantic.
A friend and staunch defender of Pietersen, Morgan seems angrier at the England and Wales Cricket Board [ECB] discarding Pietersen than an Arsenal defeat. The steady and scalding stream of tweets, ranging from Cook's captaincy to cliques, confirms Pietersen's role is not just limited to that of the cameo. He is also the screenwriter and co-director of this cold war thriller.
Outside of England, the ECB's decision to jettison Pietersen has been met with incredulity. Australia dismantled England over three formats in their own backyard, and Paul Downtown has reacted to that by depriving the team of their best batsman who out-performed his teammates during the torrid tour. It is impossible to plan a capitulation this perfectly.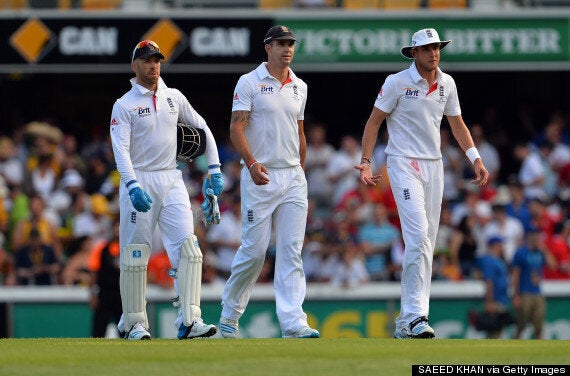 Prior (left) is accused of "backstabbing" Pietersen
England's coach has been sacked, their best player has been sacked, the captain is suffering a crisis of confidence, their only spin bowler has retired, the soon-to-be erstwhile wicketkeeper stands accused of backstabbing, Jonathan Trott may never return and Steven Finn has regressed to the brink of obscurity.
It is borderline nonsensical to conclude Pietersen should be dispensed with so quickly and Downton is experiencing a baptism of fire brought upon by himself. Andy Flower, arguably, had stagnated after five superb years, but it was expected either he or Pietersen would be forced to walk the plank.
Pietersen contributed to his own downfall in that he played a pivotal role in Peter Moores' departure five years ago and Andrew Strauss' retirement in 2012. Yet England's great survivor has emerged as the villain of the piece, which is illogical when he was nowhere near the worst performer in Australia.
His personality hindered him, specifically the maverick status. A man of similar ilk, Andrew Flintoff, is not as popular nationwide as he or his A League of their Own mates suggest, yet he enjoyed regal prominence at one stage, which always eluded Pietersen.
Post-2005, Flintoff never made a Test century or claimed a fiver, and experienced the ignominy of the pedalo furore at the 2007 World Cup. He was such an egotist he announced his retirement from cricket during the 2009 Ashes series and ended a good cricketer. Pietersen was great.
The ECB remain archaic in their approach, be it their quota of Yorkshire players (Tim Bresnan) or preference for the public schoolboy image. Cook deserves to remain captain despite the debacle Down Under but should be on probation, not just for the whitewash loss but the general cautiousness and cowardice that has festered throughout his stewardship.
Others must go, though. Prior, Monty Panesar and Trott will be casualties of the overhaul, along with less established members, such as the uninspiring Michael Carberry and the overawed Jonny Bairstow.
Ultimately, England need more maestros like Pietersen. The silver lining is they have showmen like Eoin Morgan and Jos Butler who should be integrated into the Test team, along with the impressive Ben Stokes, to spearhead a new exciting era. Graham Onions, 31, deserves to be recalled while he still has some lead in his pencil and it is imperative the bowling coach Dave Saker, if he retains his job, aids Finn's mental recovery.
Following the 2009 Ashes victory, Pietersen revealed he relinquished the captaincy. "You know what - I have never said this before - I lost the captaincy," he said. "I got rid of the captaincy for the good of English cricket, and we would not be here today if I had not done what I did then." One can't help but feel getting rid of him is not for the good of English cricket.