If you're going to go on a cruise, you'll likely be tempted to opt for a sea-view cabin.
Unfortunately modern ships are so huge that not every room can have access to a window.
Now Royal Caribbean has a solution - a terrifying, horrible solution.
The cruise-line has just unveiled a new "virtual balcony stateroom" in which the windows are actually 80-inch floor-to-ceiling TV screens.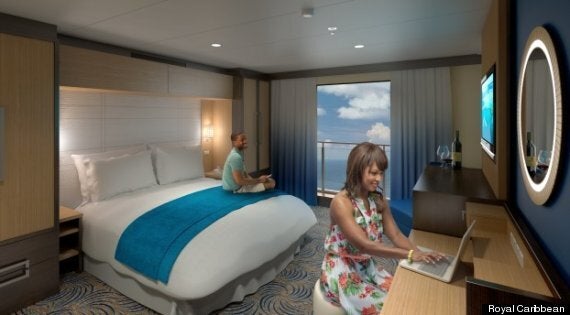 The TV takes real time footage near to the bow and stern of the ship, with the audio, and guests can enjoy pretty-much live views of the sea while they stare blankly at the horror into which they have gotten themselves.
Royal Caribbean says that guests can customise the window footage, to their taste, and pull the curtains if they want to turn it off.
Control Group, who made the windows along with experts from MIT and Harvard, said that they have poured years of research into making the view sync with the movement of the ship, so you don't feel sick.
"Sail on the first ship to debut with virtual balconies! Enjoy the sights and sounds of the sea with expansive real-time views of the ocean and our exciting destinations—all from the comforts of your interior stateroom. Plus, we're introducing panoramic ocean view staterooms with floor-to-ceiling windows. With staterooms this innovative, you may never want to leave!"
Related