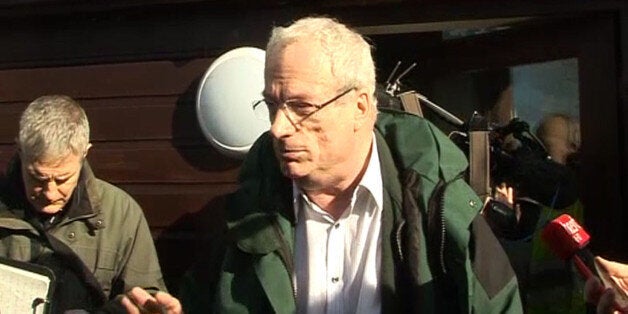 Here are the five things you need to know on Monday 10 February 2014...
The chairman of the Environment Agency has hit back at ministers in a growing row over the handling of devastating winter storms.
As thousands of families along the River Thames braced for more flooding, Lord Smith insisted his staff knew "a hundred times" more than any politician. He also squarely blamed Treasury funding rules for failure to dredge rivers, and again insisted he had no intention of resigning.
The intervention, in an interview with BBC Radio 4's Today programme, came after Communities Secretary Eric Pickles issued a barbed apology for taking Environment Agency (EA) advice - saying ministers had "thought we were dealing with experts.
Lord Smith said: "When I hear someone criticising the expertise and professionalism of my staff in the Environment Agency who know more about flood risk management - 100 times more about flood risk management - than any politician ever does, I am not, I'm afraid, going to sit idly by."
He was also asked about reports Environment Secretary Owen Paterson had complained to David Cameron about Pickles. He said: "I have indeed spoken with Owen Paterson by text... he has been hugely supportive throughout of the Environment Agency, its staff and its work and I very much appreciate that."
Today's Memo is edited by Ned Simons as Mehdi Hasan has been flooded.
2) CAMERON ACCUSED OF 'PANDERING TO XENOPHOBIA'
A senior European Union official will step up his criticism of the UK's stance on immigration, accusing politicians of "pandering" to xenophobia.
Employment Commissioner Laszlo Andor's previous criticism of David Cameron's "nasty" looking restrictions on benefits for foreigners led the angry Prime Minister to lodge a formal complaint.
But as the Daily Telegraph reports, the Hungarian will use a visit to Britain to warn Cameron he cannot "cherry pick" EU freedoms or base policy on "perceptions, gut feelings or anecdotes".
Cameron has come under fire from several fronts over his push to curb the free movement of workers, which he says is too often abused by people seeking handouts not jobs.
3) BORIS BACKS SMOKING BAN
The Mayor of London said the practice was so "disgusting" and harmful to youngsters' health that even libertarians such as him should welcome it. The Commons is expected to approve giving the health secretary the power to impose a ban despite the opposition of some MPs including members of the Cabinet.
Ministers have been granted a free vote on the measure - successfully introduced by Labour in a House of Lords amendment to the Children and Families Bill - meaning they are not tied to a party line.
David Cameron, who has declined to be drawn on his personal view, is expected to miss the vote to concentrate on the Government's response to flooding crisis. Jeremy Hunt is among his colleagues backing the move while Justice Secretary Chris Grayling is in the "no" camp of those who say it is unenforceable.
Nick Clegg has spoken out against attempts to "sub-contract responsible parenting to the state" and pro-smoking groups have branded it an "unnecessary intrusion".
Last week hundreds of medics and health experts signed a letter in support of the ban which is backed by cancer charities and the Royal College of Physicians (RCP).
4) MILIBAND: POWER TO THE PEOPLE
Concerned parents would get powers to secure intervention in problem schools under Labour proposals for "people-powered public services" being unveiled by Ed Miliband.
The Labour leader will cite the closure of the Al-Madinah free school in Derby as evidence of the failure of a Whitehall-centred system, and pledge to restore and enhance local accountability.
The Guardian reports stronger budget powers for town halls, better access to health records, school reports and other information and moves to help people link up with others facing similar personal issues are also among ideas he will set out.
Miliband is expected to use a high-profile speech - the annual Hugo Young Lecture - to state his desire to extend his drive to tackle "unaccountable power" in markets such as energy and banking to the public sector.
5) FIXING THE 'WOMEN PROBLEM'
MPs are launching an inquiry into parliament's "women problem", according to the Daily Telegraph. The paper reports:
"A cross-party committee on women in parliament will interview the female Tory MPs who are leaving at the next election to find out why they have quit, as part of the investigation. A final report will be produced in May setting out how Parliament be made more female friendly, and could consider proposals such as different working hours, more professional standards of behaviour, and even job-sharing."
Boris Johnson in the Daily Telegraph: Banning smoking in cars is bizarre, intrusive – and right
Ed Miliband in the Guardian: I want to challenge unaccountable power, be it public or private
Yasmin Alibhai Brown in The Independent: It is a disgrace that there are so few women Conservative ministers. But that they are all white is even more so
Got something you want to share? Please send any stories/tips/quotes/pix/plugs/gossip to Mehdi Hasan (mehdi.hasan@huffingtonpost.com) or Ned Simons (ned.simons@huffingtonpost.com). You can also follow us on Twitter: @mehdirhasan, @nedsimons and @huffpostukpol
Related