The star of Pancreatic Cancer Action's 'I Wish I Had Breast Cancer' campaign says she has no regrets about her decision to feature in the controversial campaign, despite a huge backlash and one death threat via Twitter.
The TV advert, which shows pancreatic cancer patients wishing they had breast or testicular cancer, has come under scrutiny from critics who believe that cancers should not be compared to one another.
"I know I upset a lot of people by saying what I did, but it's true. If I had breast cancer rather than pancreatic cancer, it is almost certain I wouldn't now be dying. Instead I've been told I've only got four to five months to live," said 25-year-old Kerry Harvey, one of three patients to head up the campaign.
"Hopefully the campaign will lead to more money being spent on research into pancreatic cancer. It won't help me, but I hope it will mean others will have a better chance than I have."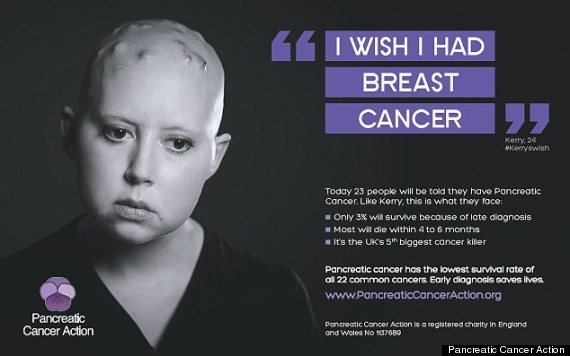 She continued: "I will never regret saying it publicly. I'm not saying that breast cancer is easier to deal with.
"But I wish I had it because I would have a fighting chance of survival. In the past couple of weeks, cancer lumps have grown on my head and in my breasts so I know I won't be coming back from this."
See Also: Pancreatic Cancer: What Are The Symptoms And How Can You Prevent It?
thanks to all those who have sent positive tweets and messages of support my way - appreciate them all! Far fewer trolls today #kerryswish

— Kerry Harvey (@KerryLou2013) February 9, 2014
While the campaign does highlight important awareness statistics - pancreatic cancer has a five-year survival rate of just 3% - but it's attempt to play cancer top trumps - survival rates for breast cancer and testicular cancer are much higher, at 85% and 97% respectively - has come under scrutiny.
Writing for HuffPost UK Lifestyle, chief executive of Breast Cancer Campaign Baroness Morgan, says: "While the intention of the campaign is great, the adverts are hugely upsetting and incredibly insensitive and divisive. It has generated conversation but for the wrong reasons, and at the expense of the feelings of those affected by other cancers."
CEO of Pancreatic Cancer Action Ali Stunt, who was diagnosed with pancreatic cancer in 2007, has defended the campaign.
Speaking to the MailOnline she said: "When I was diagnosed I was horrified to learn the survival rate and actually found myself wishing I had a different type of cancer.
"I understand that any type of cancer is a horrible, horrible disease - not least metastatic breast cancer - and would not wish cancer on anyone."
The charity issued the following statement on their Facebook page last week.