It was not to be. The popular 'Sopranos' star died of a heart attack while on holiday in Rome in June last year, leaving behind 'Enough Said' and two other projects soon to come to screen, the film 'The Drop' - due in cinemas in September - and the TV mini-series 'Criminal Justice', to be aired later in the year.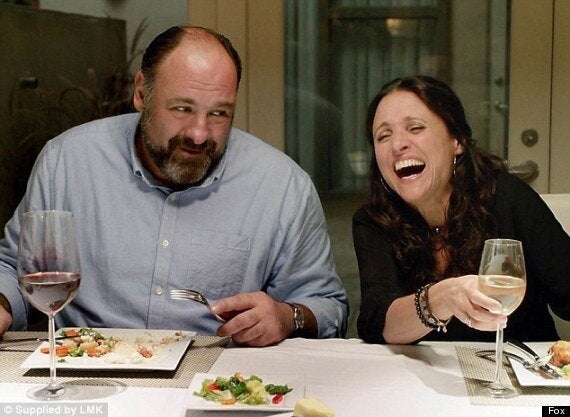 James Gandolfini and Julia-Louis Dreyfus co-star in 'Enough Said'
'Enough Said' tells the story of single mum and hardworking masseuse Eva, who becomes involved in a relationship with fellow divorce Albert, progressing sweetly and slowly until Eva's mind is poisoned by tales she hears accidentally from Albert's ex-wife, who just happens to be her client.
It's a gentle tale of how much we expect from relationships, and how hard it becomes to be vulnerable, the more weathered we are, and the more we have to lose.
Director Nicole Holofcener talked just after the film was shot of why she chose Gandolfini to star, spotting his soft side through his complex Sopranos role that had made him a star...
"The fact that he wanted to do this spoke volumes," she said.
"So I thought 'If he's in, I'm in.' He's such a good actor. I'm usually drawn to actors who haven't done what I want them to do.
"Why pick somebody to do the same thing that we've seen them in? So it's always a risk, but it didn't really feel like a risk. I knew what a good actor he was, and in person he was shy and sweet and flirtatious…he was Albert.
"Maybe a little more…well, Albert does tease her and Jim was a tease in a way. Like a big brother."
'Enough Said' is out now on Digital HD, Blu-ray and DVD from Twentieth Century Fox Home Entertainment. Watch our exclusive behind-the-scenes clips below...