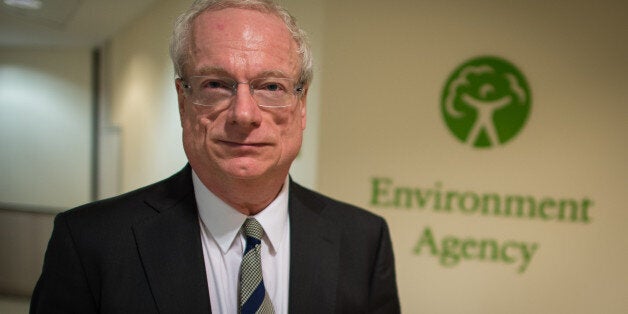 Here are the five things you need to know on Tuesday 11 February 2014...
1) DID AUSTERITY CAUSE THE FLOODS CRISIS?
"The Environment Agency has endured 'massive' cuts to its budget since the Cameron government came to power despite warning this would affect its ability to defend the country against flooding, the agency's chairman said yesterday. As flood misery spread from the southwest to more densely populated London commuter towns, Lord Smith said he had told ministers there would be consequences when the agency's funding was cut soon after the coalition came to power in 2010... 'Our funding for capital work went down massively and has been creeping back up again but it's in my view still not enough,' he said, adding that the agency's funding for maintenance and other measures has 'been going down and is still going down'."
Yesterday, David Cameron refused to rule out sacking Smith once the crisis is over, while Smith himself says he plans to step down in July once his term expires. The Telegraph adds to the pressure on the beleaguered Environment Agency boss, reporting on its front page:
"The chairman of the Environment Agency risked further criticism last night when he suggested that flooded residents were partly to blame for their problems by choosing to live in high–risk regions. Lord Smith said people who bought homes in flood plains needed to think about the 'risk that that property faces'. The remarks stoked the mounting anger towards Lord Smith's agency, which has been criticised for its response to the floods... Flood–hit residents and MPs last night demanded that he resign. They described his comments as 'out of touch arrogance' and accused him of trying to deflect the blame from his embattled agency."
The Guardian splashes on "PM: stop flooding blame game." Yeah, good luck with that...
2) MANSION TAX AT MANSION HOUSE
"The Liberal Democrats would impose new taxes on the wealthy to reduce the need for public spending cuts after the next election, Nick Clegg said yesterday. Levies would include a 'mansion tax', the Deputy Prime Minister said. His comments, at the Mansion House in the City of London, confirm a looming divide with the Conservatives, who have said they would find all the extra money to clear the deficit from savings... Mr Clegg said he would not accept the Chancellor's all–cuts approach after the general election, insisting that as well as some cuts, some new taxes would be necessary. 'The Liberal Democrats will continue to rely on a mix of tax and spending measures to fill the black hole in our finances, just as we have in this Coalition Government,' he said."
The Telegraph rightly points out that this Lib Dem position "could complicate a second coalition deal with the Tories, but make it easier for his party to cooperate with Labour in a hung parliament".
Not the most helpful of interventions from an EU commissioner in the debate over Britain's membership of the EU - from the Daily Mail:
"Britons are too ignorant about Europe to vote in a referendum on the subject, a top Brussels official claimed last night. Viviane Reding, vice-president of the European Commission, said the British debate about Europe was so 'distorted' that people could not make an 'informed decision' about whether or not to stay in the EU. Mrs Reding - who boasted that 70 per cent of the UK's laws are now made in Brussels - went on to say: 'Do the people know what they are going to vote about? 'Very often I see a completely distorted truth being presented and then how do you want people to take an informed decision? They simply cannot.' However Europe Minister David Lidington criticised her comments, saying: 'It is very dangerous to start making assumptions about what makes someone qualified to cast a vote.'"
BECAUSE YOU'VE READ THIS FAR...
Watch this video of a cat that just can't make the jump.
4) GOODBYE TO SMOKING IN CARS WITH KIDDIES
"The UK government will make it a criminal offence to smoke in cars in England when children are passengers, a Downing Street source has said. MPs voted in favour of an amendment to the Children and Families Bill, which empowers, but does not compel, ministers to bring in a ban in England. The source told the BBC Parliament had spoken and a ban would happen. The vote - passed by 376 votes to 107 - also gave the Welsh government the power to bring in a ban in Wales."
Remember: this was a Labour amendment to the bill. Who says you can't legislate from opposition?
Miliband's much-trailed Hugo Young Lecture last night wasn't just about public service reform - well, unless you count the spy agencies as public services. The Q&A saw him make some pretty interesting remarks about the Snowden affair. The Guardian reports:
"A major overhaul of the oversight of Britain's intelligence agencies, which could lead to an opposition politician chairing parliament's intelligence and security committee and reform of the intelligence commissioners, needs to be introduced, Ed Miliband has said. The Labour leader praised Barack Obama for starting an 'important debate' in the US – after the White House appointed a panel in the wake of the Edward Snowden leaks – and called for a similar debate in Britain. In some of his most extensive comments on the NSA leaks, Miliband told a Guardian audience that reforming the oversight of GCHQ, MI5 and MI6 was 'definitely' part of his campaign to challenge 'unaccountable power'."
From the Sun/YouGov poll:
That would give Labour a majority of 78.
From the Guardian/ICM poll:
That would give Labour a majority of 44.
George Monbiot, writing in the Guardian, says: "Orwell was hailed a hero for fighting in Spain. Today he'd be guilty of terrorism."
Rachel Sylvester, writing in the Times, says: "Cameron must stop and search his conscience."
Nick Clegg, writing in the Independent, says: "Only the Liberal Democrats are prepared to stand up for Britain's place in Europe."
Got something you want to share? Please send any stories/tips/quotes/pix/plugs/gossip to Mehdi Hasan (mehdi.hasan@huffingtonpost.com) or Ned Simons (ned.simons@huffingtonpost.com). You can also follow us on Twitter: @mehdirhasan, @nedsimons and @huffpostukpol
Popular in the Community