For its 100th episode, 'Midsomer Murders' branched out beyond its usual home county hedgerows and got as far as… Denmark.
If this meant something unusual for regular viewers who have never gone far beyond Badger's Drift before, certainly not overseas, it also meant, for those suffering hunger pangs for both 'Borgen' and 'The Killing', a chance to enjoy afresh some very familiar faces.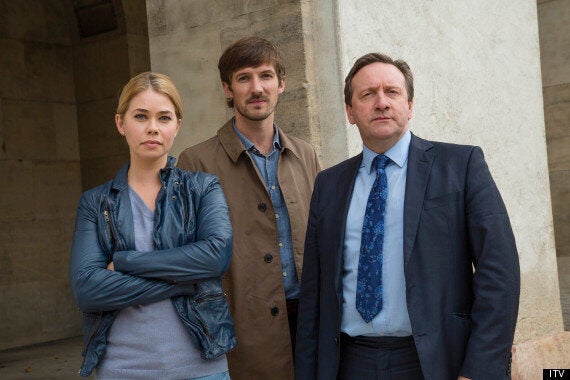 Brigitte Hjort Sorensen joined the Midsomer crew John Barnaby (Neil Dudgeon) and Charlie Nelson (Gwilym Lee) for the 100th episode
There was a basic, completely uncontrived plot to bring these two global phenomena together. Eric Calder, unloved Midsomer-based entrepreneur who built his fortune on biscuits, was killed by those very same biscuits, sent to him in poisoned form during a trip to Copenhagen.
Enter two Danish detectives, aka the lovely Brigitte Hjort Sorensen, along with another comely Dane, forced to work together with Barnaby and sidekick, to uncover what turned out to be a crime spree between the two countries. Unfortunate timing for Barnaby, with baby on its way and Sykes asleep in his basket, but at least an opportunity for the Danes to drop in some bon mots when it came to Englishmen of the "all a little distracted" variety.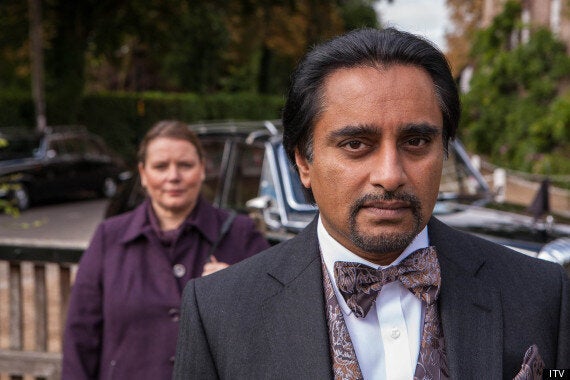 Back in Badger's Drift, some more familiar faces - Sanjeev Bhaskar and Joanna Scanlon
It was an interesting episode for a couple of reasons. Impending fatherhood gave Barnaby a chance to show a softer, reflective side when faced with the villain. (I won't spoil it for viewers on delay, but it was probably who you guessed.) There was a sub-text of legacy and parental love not normally uncovered in this semi-rustic crime caper.
All the traditional elements we like about Midsomer remained undisturbed - the usual family discontents, a Farrow and Ball country pile, a biscuit factory no less. I was hoping someone would be boiled in a vat of caramel, or squashed under a mountain of shortbread, but alas, they only nearly got cooked or, more accurately, baked.
But it was proof that you can take a beloved old phenomenon, influence it with a newly beloved foreign phenomenon, and not just leave it intact, but the better for it, with the hedgerows swapped, briefly, for a stunning fjord-side villa and some anguished Danes with their own family disquiets.
Where next for Midsomer - Barnaby heading to Rome to hang out with Zen, perhaps, or chewing the fat with Homeland's Carrie? Now that WOULD make Sykes sit up.