'Sherlock' may have made him a star (and reluctant sex symbol) the world over, but Benedict Cumberbatch has revealed why he almost turned down the iconic role when it was first presented.
The 'Star Trek' star told an audience in New York that he thought the part would be "cheesy" and also "very exposing, because there'd be a lot of focus on it".
Benedict Cumberbatch has revealed his initial 'Sherlock' fears - misguided, as it turned out
The Mirror reports the actor saying, "I heard about it and thought that sounds like an idea to reinfranchise something to make money. It could be a bit cheap and cheesy."
Only once he discovered that it was two quality writers - Steven Moffat and Mark Gatiss - behind the project did he agree to take part.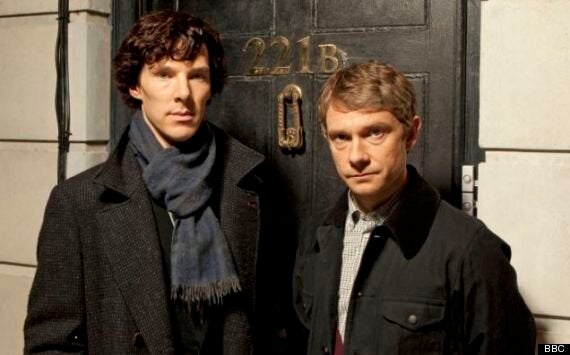 Benedict Cumberbatch and Martin Freeman co-star in the already iconic series
Benedict was participating in a new BAFTA event called 'In Conversation', which gives screen stars to talk at length about their careers, similar to 'The Actors' Studio' in the US.
He revealed there was another awkward moment when, during his audition, he mistook the mother of producer Beryl Vertue (Steven Moffat's wife) for Mrs Hudson - "no, that's my mother," said Beryl. Despite such initial obstacles, Benedict Cumberbatch was quickly offered the role.
And now it's three series later, and Sherlock is BAFTA-winning, highly-anticipated success in more than 200 global 'territories', Benedict Cumberbatch is a 'Star Trek' villain, and will be walking the Awards Season carpets alongside his most recent co-stars Meryl Streep and Julia Roberts.
He also revealed the reason he doesn't use social media...
The 37-year-old recently dismissed the name his army of fans have given themselves, saying they aren't 'Cumberbitches' but 'Cumberpeople'.