Emotional Davina McCall broke down in tears as she completed her gruelling 500-mile (805km) journey from Edinburgh to London today.
The presenter crossed the finish line outside Tate Modern at 4.10pm to conclude the final leg of her arduous physical challenge for Sport Relief.
Davina, 46, ran a full marathon distance to round off seven days of running, cycling and swimming for charity.
After her feat was described to the waiting crowd of around 100 people, Davina said: "I can't believe it was me.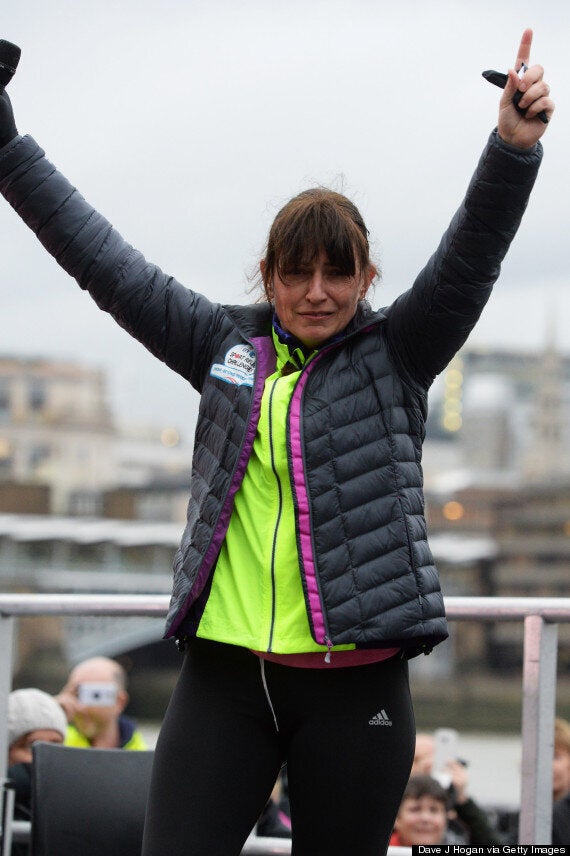 "Thank you to everybody who has donated - that is why I did it - the team that got me here, they carried me through the threshold.
"My kids and my husband were amazing."
She joked: "I have got to stop crying!"
Davina was greeted by her children and husband, Matthew Robertson, just before the finish line.
He gave her wedding ring back to her, which he had been looking after during her journey.
The BT Sport Relief Challenge: Davina - Beyond Breaking Point has so far raised over £760,000 for charity.
Davina has won over the public with her resilience over the past few days with TV viewers seeing her sobbing and barely able to enter the water during a 1.5-mile (2.4km) swim across Windermere on Monday morning.
Her body was limp by the time she was dragged from the lake at the other side and she then had to continue her journey in the saddle for the rest of that day.
The TV star has also been battling with the pain of being in the saddle for so long as well as struggling to take in enough nutrition after losing her appetite despite needing to take on board at least 8,000 calories daily to tackle the challenge.
Her last challenge was to wind through central London and run across the Millennium Bridge to reach the finish at the landmark gallery.
The former Big Brother host said: "I didn't really know how I felt when I finished and I'm just beginning to feel really, really elated.
"It's absolutely over. I thought it was never going to end."
Davina, who plans to celebrate her achievement with a family holiday, said the total raised for charity was "absolutely brilliant".
"The whole point of this was to raise money, it wasn't 'oh I'd like to do a personal challenge'.
"It means a lot that people have been so generous, especially when times are tough and the weather is tough and the situation has been tough for a lot of people," she said. "I'm really, really chuffed."