As far as we're concerned, it's still comfort food season. But that doesn't mean you have to slum it - French chef and cookery writer Stephane Reynaud shares top pastry recipes:
Sausage Roll (serves 6)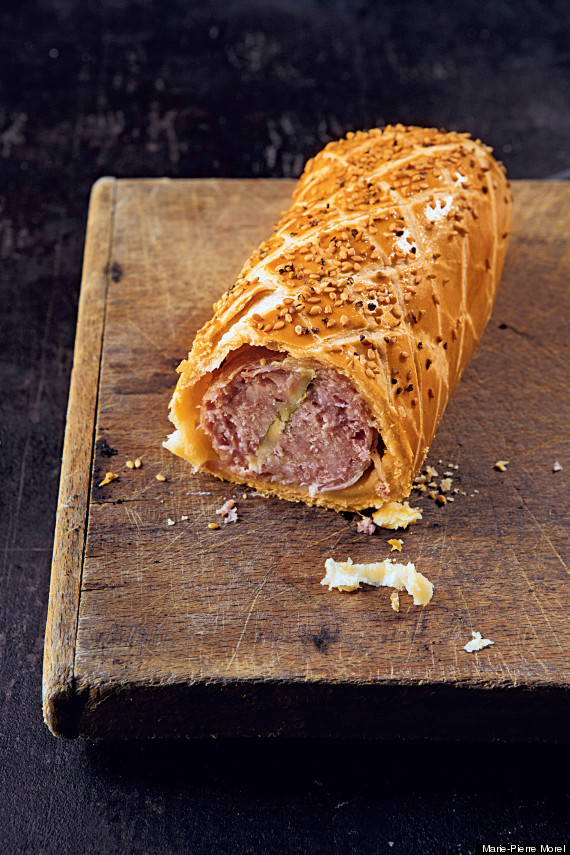 500 g (1 lb 2 oz) pâte brisée,
or 2 packets shortcrust (pie) pastry
2 cervelas Lyon sausage, or other fresh pork sausage
2 dry Picodon cheeses (soft-rind goat's milk cheese)
1 bunch basil
12 thin slices of speck (smoked belly pork) 1 egg
1 teaspoon sesame seeds
1 teaspoon cracked black pepper
Cervelas filling
Cook the cervelas sausages in boiling salted water for 30 minutes.
Cut in half lengthways. Cut the Picodon cheeses into thin slices. Pluck the basil leaves.
Arrange some basil leaves on one sausage half, then layer with half the cheese slices, cover with more basil leaves and top with the other half of the sausage, like a sandwich.
Repeat with the second sausage and wrap each sausage in six slices of speck.
Assembly and cooking
Whisk the egg. Roll out two rectangles of pastry 2 cm (3⁄4 inch) wider than the sausages and glaze the edges with the egg.
Place 1 sausage on each rectangle and roll up, pressing firmly where the pastry overlaps. Close the ends by pinching them together.
Arrange the sausage rolls on a baking tray covered with baking paper. Glaze with the egg, make a criss-cross pattern with the point of a knife, then sprinkle with the sesame seeds and cracked pepper.
Bake at 180°C (350°F/Gas 4) for 30 minutes.
Story continues below the slideshow:
Photo gallery

Pie Recipes

See Gallery
Chicken-Chorizo Pie (serves 6)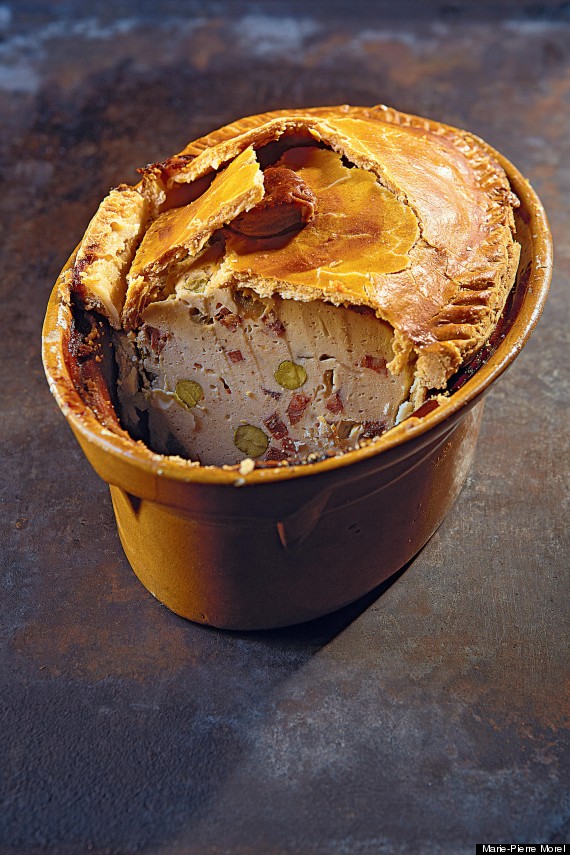 500 g (1 lb 2 oz) pâte brisée,
or 2 packets shortcrust (pie) pastry
3 French shallots
150 g (51⁄2 oz) spicy chorizo
4 eggs
500 g (1 lb 2 oz) chicken breast fillet 200 ml (7 fl oz) thin (pouring) cream
2 tablespoons olive oil
100 g (31⁄2 oz/2⁄3 cup) fresh shelled peas Salt and pepper
EQUIPMENT
2 litre (70 fl oz/8 cup) pie dish
Chicken-chorizo filling
Peel the shallots and chop finely.
Cut the chorizo into small 5 mm (1⁄4 inch) cubes. Set aside 1 egg yolk for the glaze.
Process the chicken breast in a food processor with the remaining eggs and leftover white, the cream and the olive oil until smooth.
Incorporate the diced chorizo, shallots and fresh peas with a flexible spatula. Season.
Assembly and cooking
Grease and flour the pie dish. Roll out two-thirds of the pastry dough until 3 mm (1⁄8 inch) thick and place it in the dish, with the edges hanging over the side by 2 cm (3⁄4 inch). Add the chicken–chorizo filling.
Glaze the edges with the egg yolk. Roll out the remaining dough to make a second oval and use it to cover the pie. Seal the two ovals of pastry dough together by pinching the edges, decorate with the pastry offcuts and glaze the top.
Place on a pre-heated heavy-based baking tray and bake at 180°C (350°F/Gas 4) for 1 hour.
Herb And Hazelnut Pie (serves 6)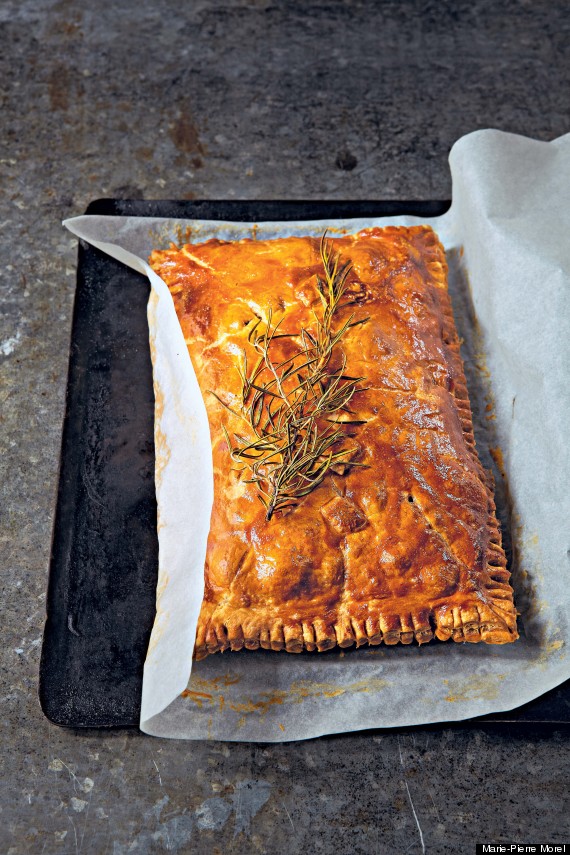 250 g (9 oz) pâte feuilletée, or 1 packet puff pastry
2 eggplants (aubergine)
3 capsicums (peppers), in different colours 2 zucchini (courgettes)
4 small onions
2 sprigs rosemary
1 bay leaf
150 ml (5 fl oz) olive oil
2 bunches basil
100 g (31⁄2 oz) hazelnuts
Salt and pepper
1 egg
Vegetable filling
Chop the eggplants, capsicums and zucchini into large cubes. Peel and finely chop the onions.
Mix the vegetables together, add 1 sprig of rosemary and the bay leaf and drizzle with the olive oil.
Arrange everything in a baking dish and bake for 3 hours at 150°C (300°F/Gas 2)— they should be well stewed down. Stir the vegetables regularly during cooking.
Pluck and finely chop the basil leaves. Place the hazelnuts on a baking tray and lightly toast at 180°C (350°F/Gas 4) for 5 minutes, then rub in a clean tea towel (dish towel) to remove the skins.
Add them to the slow-cooked vegetables, along with the basil leaves. Season and allow to cool.
Assembly and cooking
Divide the dough in half and roll out two rectangles of the same size until about 3 mm (1⁄8 inch) thick.
Line a baking tray with baking paper and lay one rectangle of dough on top. Spread the slow-cooked vegetables over the pastry dough, leaving a 1 cm (1⁄2 inch) border all around.
Whisk the egg with 3 teaspoons of water and glaze the edges. Cover with the second piece of pastry. Seal the two rectangles of pastry dough together by pinching the edges with the back of a fork.
Glaze the top of the pie and decorate with the remaining sprig of rosemary. Bake at 180°C (350°F/Gas 4) for 30 minutes.
Hungry for more? Check out Stephane Reynaud's Pies and Tarts book for more of his mouthwatering recipes.