The crew of a Royal Navy destroyer have sent a Valentine's Day message to their loved ones back home by forming a red heart on the warship's flight deck.
The message saying "I Love You" was formed by sailors aboard HMS Daring as the Type 45 destroyer heads back to its home base of Portsmouth, Hampshire, having spent nine months on deployment - one of the navy's longest missions.
Lieutenant Jason Hannigan, the ship's operation officer, said: "We have proven this is a very capable warship, but without the support of our loved ones our sailors would not be able to operate at their best.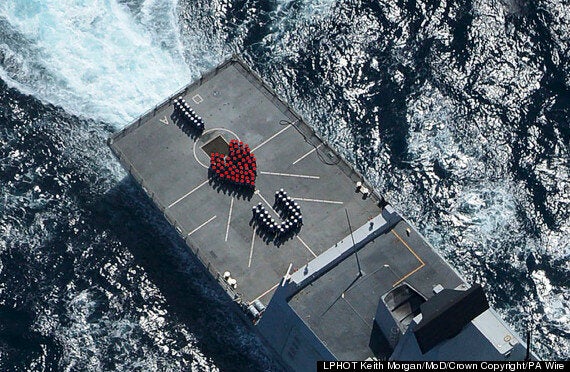 "Daring's naval family has been stretched over many thousands of miles, but we have all been there for each other."
A Royal Navy spokeswoman said: "Spelling out their heartfelt message on the flight deck on the most romantic day of the year, the sailors are eagerly anticipating seeing their families on the Portsmouth quayside.
"The first in class of the Royal Navy's Type 45 destroyers, HMS Daring has been on a global mission which has seen her work with navies across the world, including visiting the Far East and rapidly mobilising to provide disaster relief to the Philippines.
"At nine months, the deployment is one of the longest for the surface fleet meaning families have endured many months of separation over thousands of miles.
"Newlyweds will be able to reunite as will fathers with their children born just a few weeks before the ship deployed."
Story continues below the slideshow: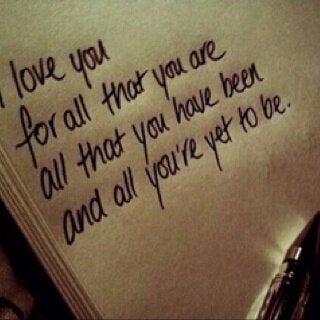 30 Ways To Say 'I Love You'
After leaving the UK in May 2013, HMS Daring, with its ship's company of 200, has called at 21 different ports and sailed more than 38,000 miles.
It has crossed the Atlantic Ocean, supported anti-piracy operations in the Caribbean Sea and the Gulf of Aden, tracked ballistic targets in the Pacific Ocean and provided immediate humanitarian support to the Philippines in the wake of Typhoon Hiayan.
The warship has also exercised with 15 navies along the way as well as in the Tasman Sea, South China Sea, East China Sea, Indian Ocean, Arabian Sea, Red Sea and will shortly continue operations in the Mediterranean Sea before arriving back in the UK at the end of February.
Chief Petty Officer Weapon Engineer Steve Hull, the ship's gun maintainer, said: "It's been a busy time keeping all the ship's armaments ready for operations and I've enjoyed preparing all the guns for the live firing exercises we've undertaken - it's better for the kit to be used and it keeps the operators sharp.
"Aside from the work aspect though I have to say I am really looking forward to getting home in time for my daughter's wedding."
The youngest member of the ship's company, 18-year-old Engineering Technician (Marine Engineer) Leanne Kelland said she had missed her home comforts.
She said: "As a first deployment this has been amazing, I have seen so much of the world and was so proud to be able to help in the Philippines.
"I do miss my mum's homemade spaghetti bolognese though."
Commander Angus Essenhigh, the HMS Daring's commanding officer, is also looking forward to seeing his wife and two young children.
"Everyone onboard appreciates the wonderful support they receive from home; it is a significant contributing factor to the morale of each and every sailor and therefore to our ship's fighting efficiency," he said.
Weapon engineer officer Lieutenant Commander Marcel Rosenberg said that he was looking forward to returning home to see his son who was born just a few weeks prior to the deployment.
He said: "Our first child was born just before I deployed to join HMS Daring, so it's been an emotional time for my wife and me.
"I have watched our little boy grow-up via email, but I video recorded myself reading nursery rhymes to him before I left and his first word has been 'dadda' - mostly due to my wonderful wife's persistence.
"This has been the hardest separation of my 26 years in the Royal Navy, but I couldn't have wished for a better Ship's company to share it with.
"As every sailor and their families come to know, absence certainly makes the heart grow fonder."