If Somerset residents dread February for the downpours, Arsenal dread it as the beginning of their season's end. In the last seven years they have lost League Cup finals, suffered a 4-0 battering at Manchester United and watched Eduardo da Silva's leg break in half. They have been dominated by Didier Drogba, humbled in Milan, eliminated by Sunderland and ejected from the FA Cup before defeat to Bayern Munich.
Not today. Arsenal went some way to atoning for the disheartening debacle on Merseyside last weekend with a gutsy victory to set up an FA Cup quarter-final home tie with Everton next month. Liverpool may have tainted the second month of this year on its eighth day, but Arsenal's gradual recovery, which began with a soporific stalemate against Manchester United, has restored hope to their cynical supporters.
Galvanised by their de facto captain, Mathieu Flamini, they derailed Liverpool's best chance of silverware this campaign in what was a buoyant precursor to their Champions League knockout tie in midweek. Devoid of several first-teamers, Arsène Wenger took a leaf out of Manuel Pellegrini's book on Saturday to use the tie as an audition, with the carrot possible involvement against Europe's best side in three days' time. What worked for Manchester City worked for Arsenal.
For all the changes made by both managers this was an absorbing and raucous cup tie laden with frenetic football, comedy and controversy. The Emirates Stadium produced perhaps its best atmosphere of the season, enriched by just over 5,000 Liverpudlians, on an afternoon Arsenal's artisans maintained their hopes of an 11th FA Cup.
There were some gloomy parallels, other than Bayern's visit this week, for Arsenal ahead of kick-off. Olivier Giroud, who became the second Gunners striker to be better known for his choice of underwear thanks to some candid pre-match tweets, was demoted in favour of full debutant Yaya Sanogo, while Santi Cazorla, Jack Wilshere, Bacary Sagna and Kieran Gibbs joined him on the bench. Carl Jenkinson and Lukas Podolski were also named on the teamsheet, although Nacho Monreal's selection was a particular surprise following his Anfield aberration. An audition could have become a death sentence.
Jon Flanagan said earlier this week Liverpool's defeat at the Emirates in November was a "learning curve" and they have learnt quickly. Perhaps motivated to highlight it was no freak occurrence, Liverpool almost began as spectacularly as they did eight days ago. Łukasz Fabiański saved from Daniel Sturridge and the England striker shot into the side-netting after he rounded the Pole inside an ominous opening six minutes.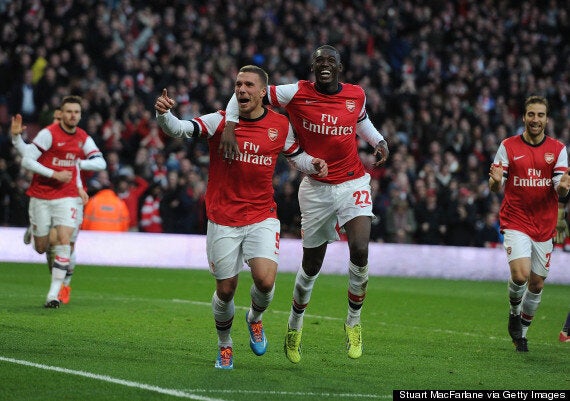 Podolski celebrates scoring Arsenal's winner in the second-half
Ironically, the home supporters were more encouraging than their Wednesday whinges about the goalless draw with United. They have thrived as the underdogs in recent years and, for all of Liverpool's domination, administered the sucker punch in the 16th minute. Mesut Özil's floated delivery dropped at the feet of Sanogo, whose blocked shot fell kindly for Alex Oxlade-Chamberlain to lash the ball past a dazed Brad Jones.
Philippe Coutinho and Steven Gerrard followed Flanagan into referee Howard Webb's book as Liverpool struggled with the rapidness of the hosts' counter-attack. Even the lightweight Özil mucked in. The return of Mathieu Flamini compensated for other inclusions, which had a positive knock-on effect on the usually ponderous Mikel Arteta.
So buoyed by their 5-1 thrashing of Arsenal last week was Brendan Rodgers he retained his attacking quartet, but it isolated Steven Gerrard, who this time had to contend with Flamini snapping at his ankles - and chirping in his face.
Raheem Sterling was arguably guilty of inexperience when Carl Jenkinson clipped his heels just outside the six-yard box as the winger stayed upright, instead. Suddenly, the through balls which evaded Per Mertesacker and Laurent Koscielny were no longer in the offing for Sturridge. Forced to use the flanks, Sterling received a lot of the ball but was largely frustrated, which he expressed to Webb when he physically shoved him yet received no booking.
Luis Suárez, on the periphery, was heckled with chants of "You should have signed for a big club." He nearly silenced Gooners when his snap-shot was parried by the attentive Fabiański moments before the pause.
The interval was bookended by Fabiański saves when he denied Suárez again and again Liverpool's profligacy was punished. Sterling lost possession on the halfway line, and the terrific Oxlade-Chamberlain outpaced Daniel Agger to pull the ball back for Podolski to sweep past Jones.
Two-nil down, Liverpool fans let off a smoke bomb and stole the ball. "Same old Scousers, always thieving," remarked the home supporters. Their cause was not as lost as the ball.
Podolski's eagerness to protect Monreal resulted in a foul on Suárez just inside the area in the 59th minute. For the second time in a week Gerrard placed the ball in the bottom left-hand corner for his fourth successful penalty this year and the momentum swung the visitors' way.
Could it happen again? Arsenal collapses are often spectacular and their good work was in danger of being extinguished when Sturridge was played through and craftily attempted to round Fabiański, only the Pole's outstretched right arm palmed the ball away. Liverpool's relationship with Webb worsened when he inexplicably failed to give them a second penalty after Oxlade-Chamberlain stonewalled Suárez just past the hour mark.
Webb succumbed to two-wrongs-don't-make-a-right syndrome when he inevitably failed to show Gerrard a second yellow card for scything down Oxlade-Chamberlain. A teflon figure as far as the Professional Game Match Officials Limited are concerned, his officiating has become especially erratic this season in light of his 2010 World Cup slump.
Gibbs and Cazorla emerged in an attempt to regain control for Arsenal, although it was the faultless Fabiański who consistently mopped up. Yet, inevitably, he flapped when he rashly dashed for a cross and Agger headed wide of an open net. Surreally, Sturridge had to tie Fabiański's laces in a rare show of solidarity to bring a comical end to a committed match.
The years of each major Arsenal triumph are emblazoned around the Emirates Stadium, which has not made an addition since it opened in 2006. They may yet in 2014.