It's a staggering thirty years since the joint appeal of Torvill and Dean forced 24 million Brits to stay up late on Valentine's Night in 1984 and watch them dazzle with their skill, physical prowess and artistry on their way to Olympic gold.
Their score – a record-breaking maximum points from judges across the board – was almost incidental to the sense of wonder, peerless skill and harmony they brought to Ravel's Bolero. No wonder a generation of youngsters found themselves pestering parents for skates and traipsing down to their local rink to discover, sadly, that it was a bit more difficult than it looked.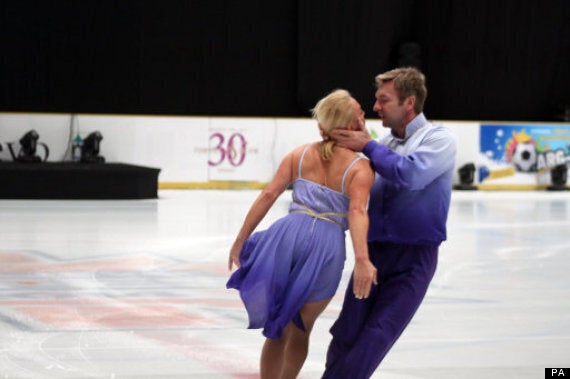 Torvill and Dean - practising once again, 30 years after Olympics and back in Sarajevo
Now, Nottingham's favourite duo is back in Sarajevo for two short days, being feted like visiting royalty, but also getting on with it in humbling professional fashion.
In between receiving gifts from the Mayor of Sarajevo, and photo calls with people from the British Embassy, both remain in their tracksuits, aware that, once again, for the umpteenth time in three decades, tonight they will have to deliver on the ice. Crowds will expect nothing less than perfection. The standard they have set for themselves over the last three decades is almost inconceivable. Uber-competitive Steve Redgrave got his first Olympic gold the same year as Torvill and Dean, and no longer puts himself through anything like this (reality show 'The Jump' notwithstanding).
"What we do requires effort," Chris agrees, in remarkable understatement, in a rare moment of down time, between meeting and greeting, practising and sneaking an extra massage for an aching muscle. Even while we talk, he's rubbing his leg with something a layman might term a rolling pin.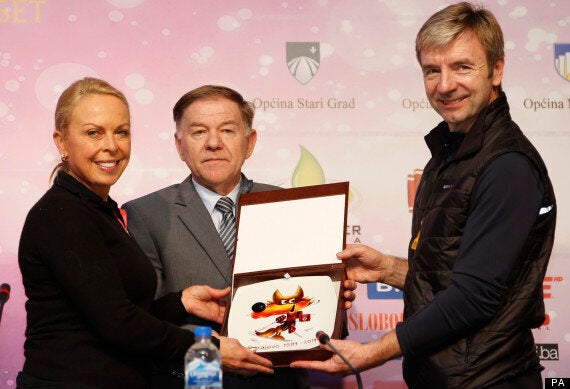 Torvill and Dean receive a gift from the Mayor of Sarajevo, on their return to the city 30 years after Olympic triumph
"You can't turn up and phone it in," he says. "You have to put the hours in to make the performance happen. I think you do have to work at being undistracted, as it's easy to be.
"You can't do it by telepathy. It literally is the hours, and you're always trying to be creative and do something new, it's always a discovery when you're working.
"I don't want to be disparaging," he continues. "But it's not like the voice of a singer. It's the physicality, warming up, getting ready, preparing your body, it's a whole physical and mental exercise."
And they both still love it, evidently, which is pretty remarkable considering the effort involved of maintaining these levels of fitness. Both are in their mid-fifties and look, if anything, fitter than when they took gold.
"We still enjoy doing it, it's not a chore," smiles a very tanned Jayne.
With their physical prowess, could there have been an easier sport to take up, looking back? They both shake their heads.
"It was our thing," adds Chris - again, impressively understated.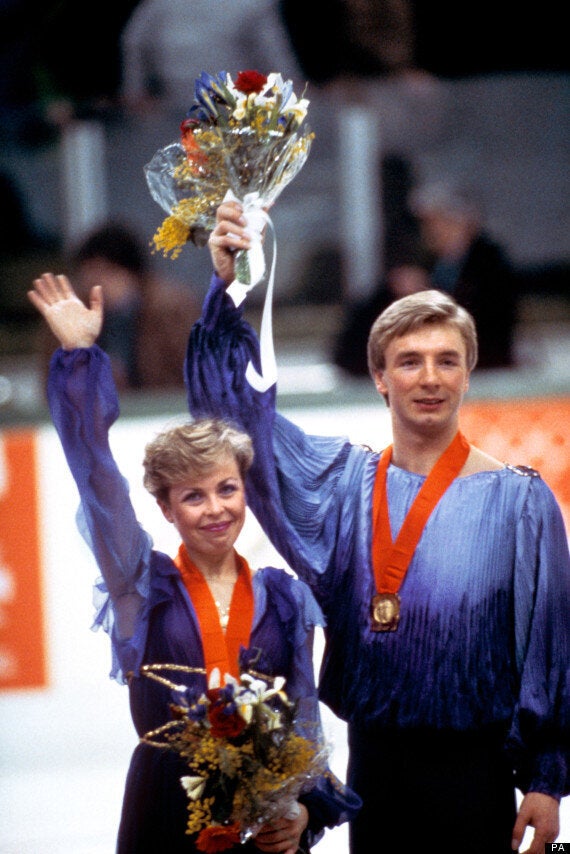 'Torvill and Dean' – the brand, not the hardworking people in tracksuits - has long earned its place in the lexicon of words, people, phenomena, simply never mentioned in a solo context.
Which wouldn't be strange if, in the thirty years since they made sporting history that night in Sarajevo, they hadn't both married other people, had two children each, and spent time quite happily living on separate continents.
What's the longest they've gone apart in that time, I wonder?
As with all their answers, they take polite turns to speak, completing the other's unfinished thought, checking the other one thinks the same.
"When we privately retired in 1998," Chris starts. "We didn't really announce it, but that period, it was eight years or so. But we did see each other during that time.
"I don't know if we got to a year, did we?" Jayne wonders aloud.
"We talked to each other every day, though," adds Chris. "Skype was already around then."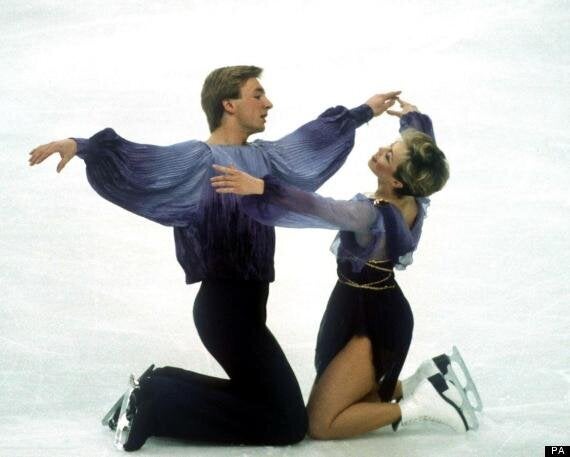 Torvill and Dean have always made their work look effortless, all part of the magic
Nicky Slater, of the Barber-Slater partnership that invariably skated in second during Torvill and Dean's amateur years, has previously expressed the view that, when they were all teenagers competing together, Chris was fortunate in his choice of partner – Jayne's superior technical skills meant he could devise routines far more ambitious than anything his rivals could come up with.
Today, what is this pair's view of their seemingly timeless abilities – is it all talent or skill? Some god-given treasure they daily honour, or a block they have both been happy to chip away at?
"I think it's both. I always go back to that saying, the more I practise, the luckier I get," says Chris.
"We definitely practise our talent," adds Jayne. "You have to apply it, otherwise you won't learn the skill of it."
It is fascinating to observe them both on and off duty in Sarajevo. At the press conference, he wordlessly leans across and checks her microphone. At the airport, she picks up his bag from the luggage retrieval belt. Answering requests from cameramen at their photo call on the ice, they plot with each other their next move to give the press what they want with minimal effort ahead of tonight's big show. Always talking, checking, balancing. No wonder they used to freak out other dancers before they even stepped onto the rink.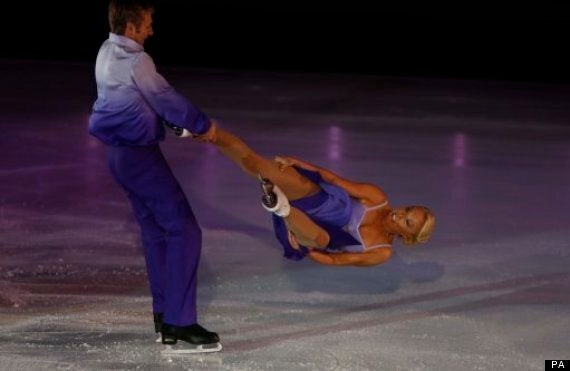 30 years later, and still seeking perfection... here in Sarajevo
It's a casual physical familiarity reserved for dancers and athletes, but the mental harmony after so long is what I think sets them apart. That, and the commitment they share to effort, the discipline of exercise, those early starts, setting creative challenges, and maintaining their status, never mind withstanding the pressure on the joints after so long. I just cannot think of a sporting individual – perhaps a horse rider somewhere – that matches this, let alone a duo. And Chris, when pressed, admits he can't either.
My question, then, is whether this is a remarkable coincidence of two very unusual teenagers meeting in Nottingham, whether one was moulded by the other or, possibly, whipped into the impressive shape we've always seen? Interviews with them over the years have suggested Chris was creative, intense, ambitious, with Jayne his willing muse, more laidback and pliable. On this trip, however, at the press conference and later on at the Gala, they share speaking duties, and it's Chris who seems overcome by the emotions of the return, with Jayne calmer, more analytical.
"We've just always wanted the same things," she tells me.
"We're completely compatible," he adds. "We're not one without the other, and we don't have any desire to move on without the other."
And then they're off back to the rink, for one final practice. The last time I see them is alone together on the ice. Chris is bending down, frowning with concentration, binding up Jayne's skate with tape, and she's leaning on him for balance.
Torvill and Dean are coaches in 'Dancing on Ice' - continues tonight on ITV from 6.15pm.