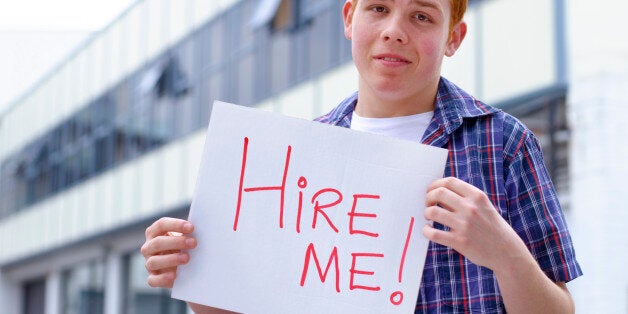 The employment landscape is still bleak for thousands of graduates across the country struggling to find a job after years of expensive higher study.
As the aftermath of the recession continues to impact negatively upon the job market, and with fewer jobs available, the competition remains at a high.
Many graduates are beginning to regret their degree choice, sometimes chosen on a whim, minutes before the UCAS application deadline.
According to new research from totaljobs.com, as many as 44% of graduates say they regret not studying something more vocational.
"Degree subjects which prepare individuals for entrance into a particular trade seem appealing to many graduates, who assume that they are a "more effective route to employment", says Mike Fetters, graduate director of totaljobs.com.
Tanya de Grunwald, founder of graduate jobs blog Graduate Fog and author of 'How to get a graduate job in a recession' says her websites' users often attribute their unwise degree choice to school teachers who advised them without "proper training or expertise to help them make an informed choice".
When such a large proportion of graduates are unemployed after six months of graduating, (nearly 40%), it's not hard to empathise with the unemployed graduate. The independence which students have at university, paired with the control over their situation, quickly becomes a distant reality for many after they graduate.
As de Grunwald says: "Life after graduation is far from what they expected - as they are jobless, living at home with their parents, skint and losing motivation fast."
However it's not all doom and gloom. The recent totaljobs.com barometer data from Q4 2013 showed that graduate and trainee jobs were up by 2%.
Abbie Baisden, Content Editor at Milkround, a popular career source for graduates, told The Huffington Post UK the rise in grad jobs is "very encouraging" but also offered some advice to graduates who have tunnel vision towards grad schemes.
"Competition for any job at the moment is high, and its important that graduates understand that they don't need to necessarily go for grad schemes. Applying for jobs at independent companies can also lead to good graduate jobs."
Baisden adds: "What many graduates fail to realise is that having a degree in any subject will have equipped you with many skills, for example in areas such as research, communication, and analysis."
"Many university graduates set themselves a limit on what they can apply for, and have quite a narrow vision of what they can do. Graduates can sometimes have an unawareness of where their skills are useful, and instead stick to a precise target job and fail to see the array of choice at their feet."
It's well worth digging that bit harder to find information about what other jobs are out there, and tapping into the "hidden job market" says de Grunwald.
"Build your network, attend industry events and apply speculatively to companies that you read are doing well and expanding. I keep telling graduates to do this, but not enough take my advice. When they do, they say it's a revelation."
All of the graduate recruitment agencies HuffPost UK spoke to confirmed a big no-no for prospective employers is seeing a "large gap" on an applicant's CV. Graduates can put themselves in good stead by demonstrating that they were proactive in their job search, and worked in the meantime.
Having a degree is undoubtedly an asset, but it's also important to prove to your employer that you have the drive to take control in any given situation.
"Keeping a small job going whilst looking for work looks far better on the CV than a gaping blank space, post-graduation", Baisden told the Huffington Post.
Mike Fetters' advice for new grads is: "Graduates need to prepare themselves for the fact that it may take them a few months longer than they thought to find the job they want…. although the job hunting process can be long, graduate jobs are incredibly rewarding."
Related