Arctic Monkeys not only injected some rock'n'roll into the Brit Awards 2014, but also took home the coveted Best Album gong for 'AM' and Best Group prize.
The Sheffield band's triumph on Wednesday is a triple success - as they have now carried off the Best Band and Best Album gongs in three separate years.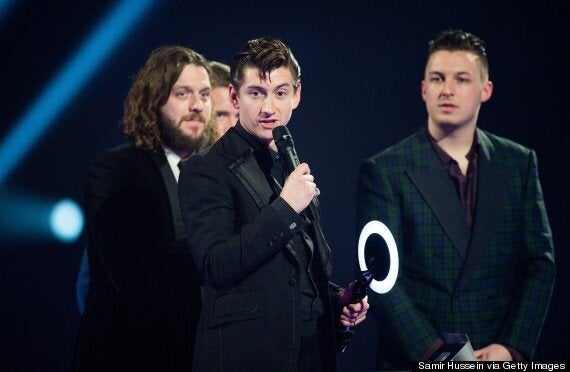 Meanwhile, veteran star David Bowie crowned his comeback to become the oldest star ever to win a Brit Award - and used his winner's speech to urge Scotland to remain part of the UK.
The 67-year-old was given the best British male prize - after being awarded the same title exactly 30 years ago - following a 10-year recording break.
And in a speech read out on his behalf by supermodel Kate Moss - wearing one of his Ziggy Stardust stage outfits from 1972 - he stepped into the referendum debate by declaring: "Scotland stay with us."
The other big winners of the night were One Direction, who received the Global Success Award and Best British Video prizes.
The singer left his One Direction pals to head on stage without him as they collected their global success award and after eventually joining them asked: "What did we win?"
Ellie Goulding was crowned Best Female, Lorde was named Best International Female, while Best International Male went to Bruno Mars.
Daft Punk received the International Group prize, Bastille picked up Best Breakthrough Act and Best Single went to Rudimental feat. Ella Eyre for their thumping 'Waiting All Night'.
Check out the full winners (in BOLD) below...
Mastercard British Album Of The Year
David Bowie - 'The Next Day'
British Female Solo Artist
International Male Solo Artist
International Female Solo Artist
Calvin Harris Feat. Ellie Goulding - 'I Need Your Love'
Disclosure Feat. AlunaGeorge - 'White Noise'
John Newman - 'Love Me Again'
Naughty Boy Feat. Sam Smith - 'La La La'
Olly Murs - 'Dear Darlin'
One Direction - 'One Way Or Another (Teenage Kicks)'
Rudimental Feat. Ella Eyre - 'Waiting All Night'
Calvin Harris Feat. Ellie Goulding - 'I Need Your Love'
John Newman - 'Love Me Again'
Naughty Boy Feat. Sam Smith - 'La La La'
One Direction - 'Best Song Ever'