Only two episodes in, and it feels like 'Line of Duty' in general, and Detective Inspector Denton in particular, has already got us truly by the scruff of the neck and up against a wall.
It was all looking so bad for Denton (Keeley Hawes). Not only had she clocked her neighbour over noise pollution, she'd also got wise to Fleming's (Vicky McClure) tricks and quickly heaved her behind a building with a quick punch to the belly to succeed in getting the message across where glancing meaningfully through the office blinds had failed to do the job. Message received: don't mess.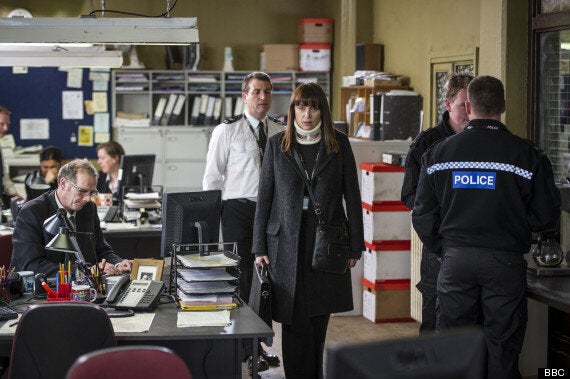 The inscrutable DI Denton - yes, she has some anger management issues, but does that mean she's corrupt?
And then, just when it looked like Internal Affairs would have her for this alone, more tables were turned, as she proceeded to dismantle their team one by one - with all sorts of mischief about each of them that she'd managed to uncover. Something they'd forgotten about this solitary policewoman - what happens when you only have your job for comfort in a lonely life... you become quite good at it.
Bang to rights then, oh, until the identity of the witness in protection was revealed to the team, but not yet to us. And suddenly even terrier-like DS Arnott (consistently good Martin Compston) was looking even more ashen, and less convinced of Denton's complicity than was good for him.
"I'm innocent and you know it," said the woman I have now all but forgotten is Keeley Hawes, so convincing is she as an enigmatic bruiser. Does he know it? Do we? Goodness knows, but I cannot WAIT for the next episode. Gripping stuff.
Popular in the Community